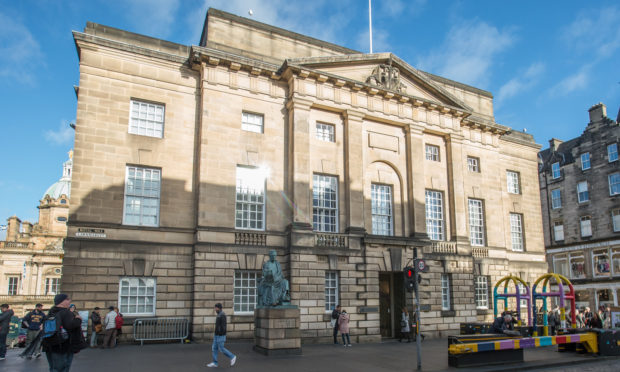 A Moray child rapist who photographed his horrific abuse of a two-year-old girl to share online has been jailed for 13 years.
Predator Matthew Sinclair, from Elgin, was caught after he left his mobile phone charging and a woman looked at it and found messages on an app.
Judge Michael O'Grady QC told the 28-year-old at the High Court in Edinburgh: "In these courts we are depressingly familiar with the depths to which some individuals will sink to satisfy their urges.
"Even so, some behaviour still has the power to shock and yours surely has."
The judge said the depravity, cynicism and cruel indifference with which he abused the child, who was little more than a baby, was "quite beyond description".
The judge told the sex offender: "You do, at the very least at times, show a considerable lack of empathy and a failure to recognise the horrendous nature of what you have done."
Mr O'Grady told Sinclair that such crimes were bound to attract a significant jail sentence and that he would have faced an 18-year prison term, but for his early guilty plea.
Elgin child rapist, 28, who photographed abuse faces 'very significant' prison sentence
The judge also ordered that Sinclair be kept under supervision for a further six years because of the "deeply disturbing" nature of the offences and fears that he may present a substantial risk on his eventual release.
Factory worker Sinclair previously admitted raping the child on August 11 and distributing or showing indecent photos on the same date.
The court heard that the woman who uncovered the abuse had looked at the contents of Sinclair's phone and discovered an app which she did not recognise.
On it she found a series of sexualised messages between Sinclair and another during which he asked the unidentified individual: "You got any taboos?"
His contact mentioned "kid sex" and Sinclair responded that he shared the same illicit interest.
First offender Sinclair, currently in Inverness prison, sent images of the naked girl and his abusive acts from a house in the Moray area.
After police were alerted cybercrime experts found a conversation between Sinclair and a user called "anonymous" and discovered four indecent images of the child were sent.
Defence counsel Susan Duff said: "I cannot make anything he did any less awful. His crime is abhorrent. It is a terrible crime and he knows that."
Detective Inspector Alan Armit said: "Matthew Sinclair is a dangerous and predatory individual who has committed horrific acts of abuse, for which he is rightly being punished.
"I would like to commend the victim's family for their bravery throughout this ordeal. His guilty plea and this sentence is testament to the evidence provided and the investigative work carried out by officers in the Public Protection Unit.
"Anyone who has been subjected to abuse should feel confident that we will believe you and will thoroughly investigate. As for those few individuals who consider committing such acts, I want you to know that you will be caught, no matter when or where it takes place."
An NSPCC Scotland spokesperson said: "Sinclair's abuse of this defenceless young girl is truly sickening, compounded by him then sharing images of his appalling acts.
"It is extremely fortunate that Sinclair's depravity was discovered, ensuring he is no longer a danger to other children. It is imperative that Sinclair's victim receives all the treatment and support she needs to help her recover.
"NSPCC Scotland works to protect children from abuse and anyone worried about a child can contact our Helpline to report concerns."