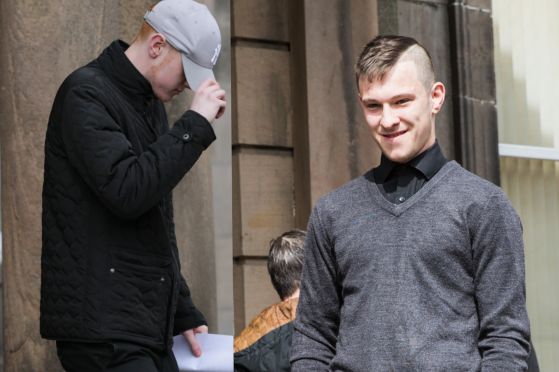 Two men who committed the "chillingly evil" killing of a family's pet gecko in a blender have been told to volunteer with an animal charity if they want to avoid going to prison.
Daniel Innes, 20, and Jordan McIsaac, 18, were at a friend's house party on March 5 last year when, after trashing the Aberchirder property, they brutally killed the family's two lizards.
One was dropped on the floor where it died, while the other was stuffed into a food processor.
At Banff Sheriff Court yesterday they were told to seek out work with an animal charity to make amends for the deaths.
Men face jail after killing pet gecko by stuffing it in a blender
But last night groups across the north-east said they would block any attempt by Innes, of Brands Butt, Inverurie, or McIsaac, of Mid Street, Cornhill, to volunteer their time.
The pair were bailed by Sheriff Philip Mann for three months to offer them the opportunity to show remorse and to be on good behaviour.
They were told to return to court later in the year with evidence of any charity work they had completed which would reduce the chances of them being sent to prison.
Earlier in the day, Sheriff Mann branded Innes and McIsaac's crime as "chillingly evil" and one of the most difficult he has ever presided over in his 11-year career.
"It amply merits a custodial sentence," he said.
"But you're both young men. I don't like sending young people to custody."
In addition to their goodwill efforts, both men will have to obey a curfew between the hours of 10pm and 5am until the case's next hearing.
Stuart Beveridge, who is representing Innes, said his client had been off the rails at the time of the offence and was "utterly disgusted with what he and the co-accused did that weekend."
McIsaac's solicitor, Leonard Burkinshaw, added that the landscape gardener had been having difficulty at home and was "rebelling".
The duo will appear at court again on October 17.
On the same day, McIsaac will face sentencing for an assault he took part in on August 24, 2016, when he along with others attacked a man in Banff.
Slap on the wrist
Animal welfare chiefs were united in their determination not to allow the pair to work with them.
And the owner of the two geckos complained they had been let off with no more than "a slap on the wrist".
Mike Flynn, the Scottish SPCA's chief superintendent, ruled out any chance of the two volunteering with his charity.
He said: "We are pleased to see that McIsaac and Innes have been dealt with by the court.
"Due to the horrific nature of their crime, it would not be appropriate for them to volunteer with the society."
And Keith Marley, owner of the New Arc in Ellon, which cares for injured animals across Aberdeenshire, added: "The same goes here – I wouldn't let them near the place.
"I can appreciate where the sheriff is coming from. People like this need to be educated, they need to be taught the value of life whether it be human or animal.
"But I would doubt very much whether anyone would be willing to take the risk with them. Certainly, I'm not prepared to be the one to take the risk."
Amanda Bibby, the owner of the house, only found out about the incident after returning home from a weekend caravan trip with her daughter.
It had been filmed on her teenage son's mobile phone while he slept.
The 33-year-old said she was left feeling "let down" by the justice system following Tuesday's hearing.
She said: "I am absolutely disgusted by the decision, it gives the message that you can kill an animal in such an incredibly evil way and get away with it.
"I knew a jail sentence was unrealistic but the judge has his head in the clouds if he thinks volunteering at an animal charity will help.
"This has been dragged out for months on end, and all they got was a slap on the wrist."