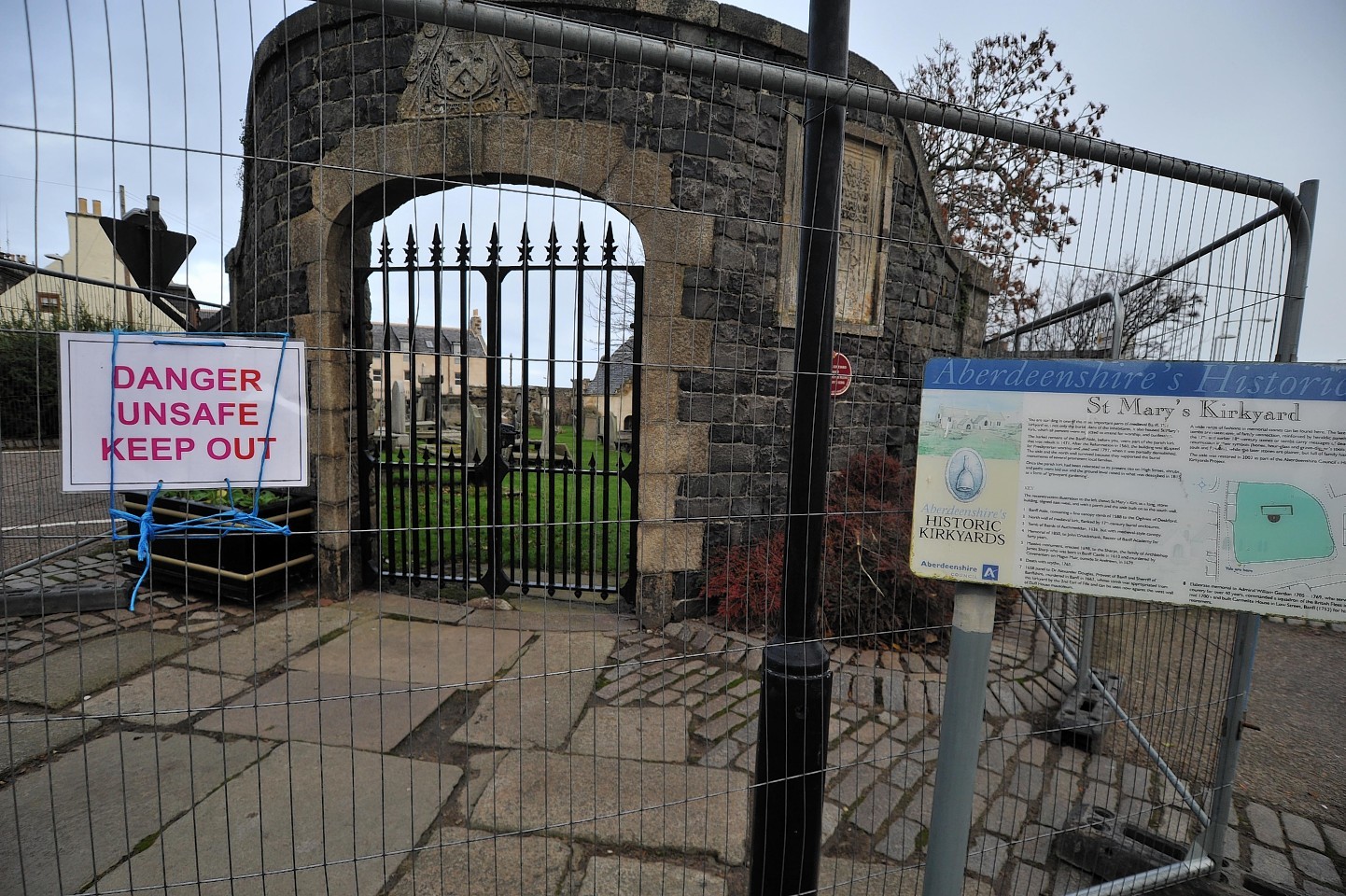 A historic north-east cemetery which has been sealed off for several months amid safety fears could soon be re-opened, it was announced last night.
The crumbling St Mary's Kirkyard in the centre of Banff was closed to the public in November after large cracks appeared in its centuries-old stonework.
The area, which is regarded as one of the north-east's most important mediaeval sites, has since been declared unsafe and fenced off.
Now owners Aberdeenshire Council have struck a deal for stabilisation work on the kirkyard's archway.
Banff-based builder AD Walker has been awarded the contract for the job.
A council spokesman said: "The work should begin shortly and we hope to have the site reopened to the public as soon as possible afterwards."
A timeline for construction has yet to be scheduled.
Warning signs were placed at the entrance declaring: "Danger, unsafe, keep out".
The site contains the remains of an old parish kirk which dates back to the 15th century.
In 2003, the surviving aisle of the church was restored as part of the council's Historic Kirkyards programme, which was partly funded by Historic Scotland and the Heritage Lottery Fund.
The kirkyard also boasts several other ancient gravestones and structures, including a canopied tomb from 1636 and the Sharp Monument, which dates back to 1698 and is covered with symbols of death and resurrection.
The cemetery is reputed to contain the remains of 40,000 people and was used up to the 1860s when Banff's new graveyard was commissioned.
Last month, another mediaeval churchyard in Banffshire was revived as part of a special Easter ceremony. Dozens of worshippers attended the service at the old kirk yard at King Edward on Easter Sunday morning. It was the first time the site had been used for 60 years.