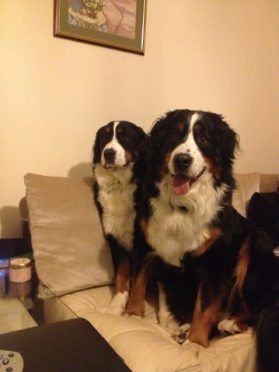 A dog that spent six days on the run from its owners in gale force winds and rain was last night recovering at home.
Lolo, a one-year-old Burmese mountain dog, escaped from owners Jennifer and Kenneth Hendry last Tuesday when winds destroyed the couple's fencing at their St Combs home.
The pup, which was outside with its mum Ruby at the time, bolted and eluded capture from a team of more than 30 people for the next six days before finally being cornered in Rattray Head – almost eight miles away.
Last night, Mrs Hendry said she had all but given up hope before sightings of the hardy dog began to be reported across the north-east coast.
"Our fence had blown down and she disappeared, it wasn't until my husband got home from work to check on the dogs that we noticed," she said.
"She was spotted on Wednesday by a guy from St Fergus, but she ran away from him. She was so scared because of the weather – traumatised."
That was the last anyone saw of Lolo until Sunday, when she was finally caught after a gamekeeper at St Fergus spotted her running for Rattray Head.
It was later discovered that between roaming the coast, she had made shelter in an old coastal pillbox.
Mrs Hendry described the experience as "horrible".
She said: "I just thought it was going to be a disaster, I honestly didn't think she would be alive. She was getting very weak.
"She's lost a lot of weight, but she'll be fine. But the help and support we got from everyone was unbelievable. It was amazing to see the support from everyone."
As well as fellow dog walkers making the effort to find Lola, the entire Hendry family made daily searches.
The fence at the family home has since been repaired.