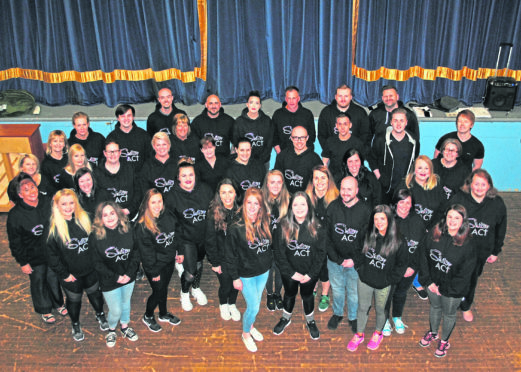 A north-east theatre group is adding the final touches to its own stage version of one of the most popular films of the 1990s.
Fraserburgh Junior Arts Society's production of Sister Act will hit the town next month.
The musical is based on the 1992 movie of the same name, which starred Whoopi Goldberg, Dame Maggie Smith and Harvey Keitel.
It tells the story of a singer who witnesses a murder and has to be sheltered in a convent.
The Fraserburgh version of the musical, which originally opened in the West End in 2009, will help the society celebrate its 65th Anniversary.
An exhibit was unveiled at the Fraserburgh Heritage Centre in March to mark the milestone.
Sister Act producer Stephen Summers said he and the cast have had a lot of fun working on the musical.
He said: "This is a really fun production to be a part of.
"We have a large cast with a range of experience, from old hands to a number who have never stepped on a stage before.
"I have loved bringing this show together. There have been lots of laughs and a really fun atmosphere in rehearsals.
"I am so excited for an audience to see what our nuns can do."
Mr Summers said audiences might be surprised by some of the show's content – if they only have the original film for reference.
"People will be expecting to hear songs from the movie but the songs in the musical are all brand new.
"I'm sure it will be a show that will bring in the crowds."
Sister Act will run at the Dalrymple Hall and Arts Centre from Tuesday June 19 until Saturday June 23.
Tickets will be available from the Fraserburgh South Church Hall from Saturday June 3 at 10am.