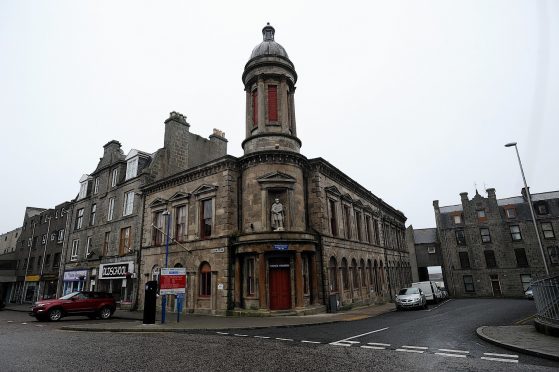 North-east councillors have been asked to back a bid for a multi-millionpound cash injection into a regeneration scheme in the region.
Members of Aberdeenshire Council's policy and resources committee have been urged to progress a bid for £1.79million of Heritage Lottery Funding to boost Fraserburgh town centre.
The cash would help fund a £5.7million project to refurbish historic buildings in the port's town centre, including the former council chambers at Saltoun Square.
The local authority wants to transform the port's shopping district to boost trade. The scheme would also allow for local businesses to access grant money to upgrade their shop frontages or train staff.
But, if the bid for Heritage Lottery funding is to be successful, councillors have been warned that they will also have to agree to match the money from the council's own budget.
In a report to committee members, environment officer Deborah Burroughs says: "There is a risk that by not doing so, the Heritage Lottery Fund bid could be compromised."
Early last year, Aberdeenshire Council won a grant of £1.2million from Historic Enviroment Scotland as well as the go-ahead from Heritage Lottery to bid for the £1.79million.
The tabled proposals include overhauling Saltoun Square's council chambers and former police station into offices, and revamping the fire-ravaged John Trail building into a hotel.
The council will contribute £1m, but must earmark an extra £338,000 towards the cost of Saltoun Square as costs rise.
Another £645,000 is needed to redevelop the police station – which has been purchased by the local authority – and the council has applied for a Scottish Government Regeneration grant to fund the venture.
If successful, the overall scheme would require a full-time project manager and two part-time support staff. The jobs would all be based in Fraserburgh and the team would promote the initiative in the local community and manage historic building grants.