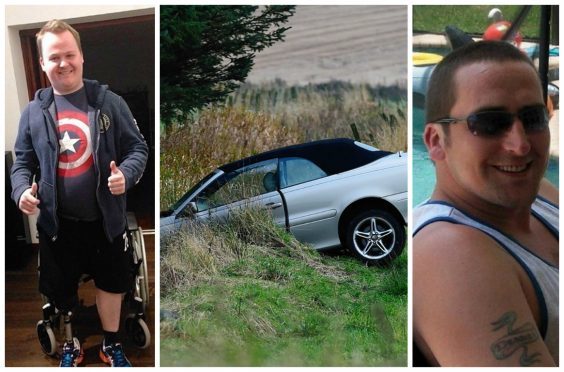 A man who left a police officer for dead in a field has had an assault charge against him dropped.
Alan Tait was driving back to Fraserburgh from Liverpool last year when he knocked Constable Ewan Simpson off his motorbike on the A952 road near Mintlaw.
The police officer, who had been on his way home from his work, was so badly injured he had to have his leg amputated.
The 32-year-old was left to crawl through a barbed wire fence to attract the attention of passing motorists after Tait abandoned him.
Tait, meanwhile, hitched a lift back to Fraserburgh from a driver who saw his car in a ditch.
The 36-year-old told the Good Samaritan motorist that he was the only person involved in the crash.
It was not until he was at a friend's house later the same night that he admitted what had really happened.
He was jailed for seven years when he appeared at the High Court in Lanark last week and had been expected to appear at Peterhead Sheriff Court to face a charge of assault to injury.
But his case never called and the Crown Office confirmed yesterday it had dropped all proceedings against him, including an allegation he obstructed police officers.
A spokeswoman said: "As far as the Crown is concerned, we have dropped all action against him because of the severity of his sentence."
At the High Court last week, a judge branded Tait's behaviour on the night of the crash, October 27 last year, as "appalling".
Meanwhile, Constable Simpson's "unimaginable courage" was praised by the north-east's divisional police commander, Chief Superintendent Campbell Thomson.
The court heard Constable Simpson had been on his way home when he noticed Tait's Volvo veering towards him on the Mintlaw-Fraserburgh road.
The car struck him, crushing his right leg and throwing him into the air.
He hit the ground "several times" before ending up in a nearby field. He was not found until an hour later when two nurses spotted Tait's car.
Constable Simpson had begged Tait to stay with him, but was told that he was leaving to go get help.
Tait said he thought he must have fallen asleep at the wheel because he had been driving back from Liverpool since the previous morning.