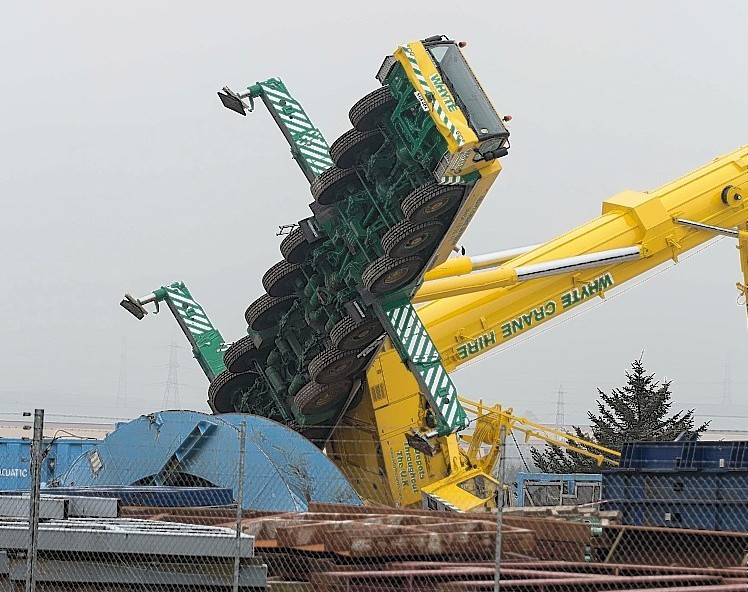 A north-east safety group has warned people against taking trips to see a crane which collapsed more than a month ago.
The £3million vehicle toppled over at the Dales Industrial Estate in Peterhead on May 5 and has since become a "novelty attraction", according to local campaigners.
The Buchan Community Safety Group has now warned people of the dangers of wandering around an industrial estate to catch a glimpse of the machine.
Group member Anne Allan, who is also a local councillor, is concerned about the number of people visiting the estate to take photographs.
She said: "People need to stay well clear of industrial areas unless they really need to be there.
"Slow moving and heavy goods vehicles are reversing and unloading and it would be easy for someone taking a picture to be caught unawares."
The eight-axle vehicle, owned by Tipperty firm Whytes Crane Hire, toppled when one of its tail-end stabilisers sank into the ground.
The accident happened at a site operated by subsea business Aquatic on the afternoon of May 5. No one was injured when the 630ft vehicle went over.
Now bosses at the crane hire firm say they are trying to work out how to move it.
A spokesman said: "A recovery plan is being developed."
An investigation by the Health and Safety Executive is now under way, amid concerns that the site was not suitable for the vehicle.
Six years ago, one of the firm's vehicles was at the centre of an investigation into a road accident which claimed the lives of a woman and her two daughters.
In 2012, a sheriff ruled that the firm played a fundamental role in the events leading up to a crash in January 2008 in which Johnshaven woman Ann Copeland, 45, and her daughters, Niamh, 10, and Ciara, 7, died.
They were on a school run when their car skidded on the A92 Stonehaven-Dundee road near St Cyrus.
It was later discovered that hydraulic fluid that had leaked from a mobile Terex crane – which had been on the road shortly before the family set off – was responsible for Mrs Copeland losing control of her car.