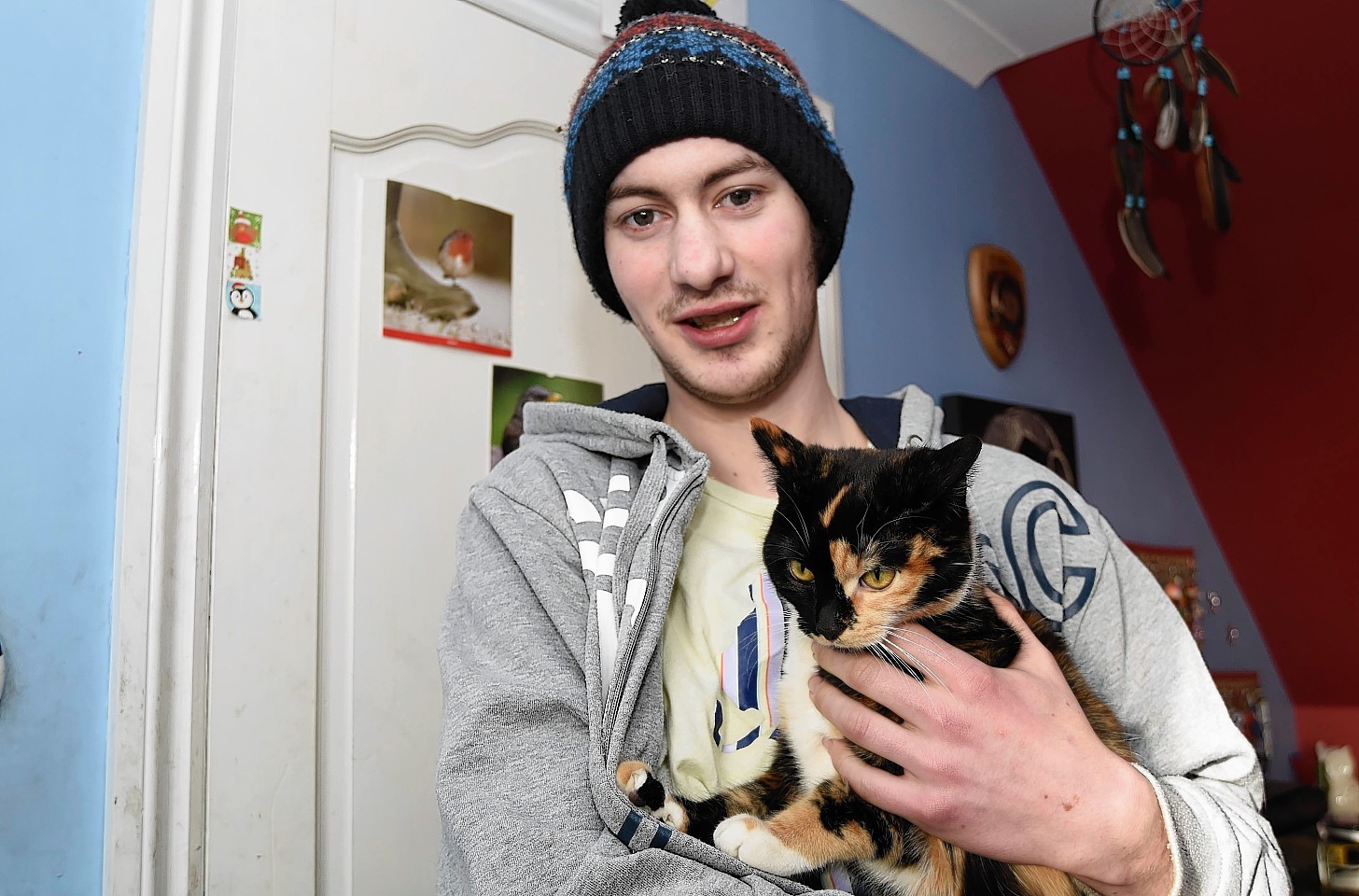 An abandoned cat was saved from a sickening death by a passer-by, who found it sealed in a box only yards from the incoming tide at Peterhead.
Corey Munro, an animal rescue volunteer, was walking home when he heard noises coming from a council recycling box dumped on rocks near the town's Battery Park.
The 19-year-old was disgusted to find the timid creature trapped inside the blue box which had been sealed shut with cable ties and left on the shore.
Last night he told the Press and Journal he was in no doubt that someone had left the tortoiseshell moggy to drown.
Mr Munro said: "I went down to my friend's house and before I was on my way home, my mate told me about an injured seagull over on the rocks.
"I used to volunteer at an animal rescue centre so I went down to see if I could see it.
"That's when I saw a blue recycling box and I could hear a noise coming from inside it. It had a cover on it – the ones that stop your recycling blowing away.
"I tried to pull it off when I saw it had been cable tied on, so it couldn't come off.
"I ripped it open and found a little cat inside on the rocks It was frozen, lying in the box shivering."
The box factory worker carried the animal, which he has called Tiger, back to the roadside in the hope it could make its way home but to no avail.
Instead he took the creature back to his own house and reported the incident to the police and the Scottish SPCA.
Now he is appealing for anyone with information on the incident to come forward.
"Someone has put it there deliberately – maybe the owner or some random person whose garden it's done the toilet in," he said.
"They've put it in this box and just chucked it down there. It has been deliberately done – that's for sure."
The life-saver will now care for Tiger until someone comes forward to claim the cat.
Last night Scottish SPCA inspector Fiona Shand said: "The cat is very friendly and in good health. However, she wasn't wearing an identity tag and there was no microchip so we have been unable to trace her owner.
"This was a cruel and irresponsible act and we would ask anyone with information about the incident to call our animal helpline."