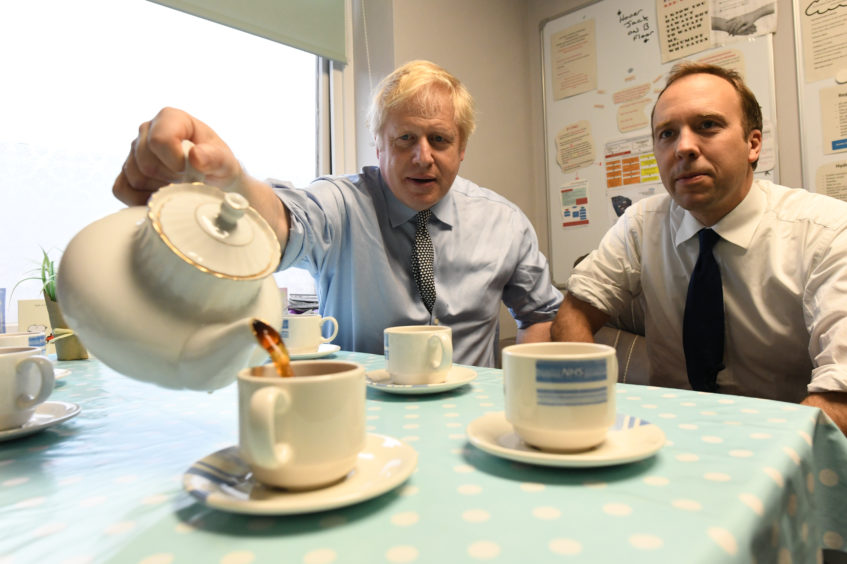 Boris Johnson will be self-isolating alone in his Downing Street flat for seven days after testing positive for coronavirus.
The prime minister, who is 55, was tested for Covid-19 on Thursday afternoon after he developed a temperature and cough.
The result came back positive at midnight on Friday and the prime minister retreated to his flat above Number 11 to obverse self-isolation guidelines.
It is believed that Mr Johnson is the first leader of a G7 country to have contracted the infection.
Foreign Secretary Dominic Raab will take over if Mr Johnson becomes too ill to carry on at the head of the government's respons
Mr Johnson's fiancee, Carrie Symonds who is five months pregnant, has left Downing Street and is self-isolating with their dog Dilyn at another location.
Over the last 24 hours I have developed mild symptoms and tested positive for coronavirus.

I am now self-isolating, but I will continue to lead the government's response via video-conference as we fight this virus.

Together we will beat this. #StayHomeSaveLives pic.twitter.com/9Te6aFP0Ri

— Boris Johnson #StayHomeSaveLives (@BorisJohnson) March 27, 2020
In a video posted on Twitter, Mr Johnson said: "I am working from home, I'm self-isolating, and that's entirely the right thing to do.
"Be in no doubt that I can continue thanks to the wizardry of modern technology to communicate with all my top team to lead the national fightback against coronavirus."
He also paid tribute to the "amazing" NHS staff.
"It was very moving last night to join in that national clap for the NHS. It's not just the NHS, it's police, social care workers, teachers, everybody who works in schools, DWP staff, an amazing national effort by the public services but also by every member of the British public volunteering", he said.
The news came as Health Secretary Matt Hancock also revealed he was self-isolating after testing positive for the illness.
In a similar video posted online, Mr Hancock said: "I've had some mil symptoms of coronavirus and upon medical advice I was tested and that test has been positive, so I will be self-isolating here until next Thursday.
"Fortunately for me the symptoms so far have been very mild so I have been able to carry on with the work, driving on the UK response."
Following medical advice, I was advised to test for #Coronavirus.

I've tested positive. Thankfully my symptoms are mild and I'm working from home & self-isolating.

Vital we follow the advice to protect our NHS & save lives#StayHomeSaveLives pic.twitter.com/TguWH6Blij

— Matt Hancock (@MattHancock) March 27, 2020
The prime minister's spokesman, speaking to reporters on Friday morning, said: "The PM noticed that he had mild symptoms on Thursday afternoon, he spoke to chief medical officer about that and on the chief medical officer's advice he was tested in Number 10.
"He got the result on that test at midnight last night, the PM has been in self isolation in the flat in Number 11 and that's where he will remain for seven days."
He added: "While the PM is self isolating he will do the same things, but that will be done exclusively via teleconferencing from Number 11.
"Number 11 in its entirety will serve as the PM's office and home, the doors between Number 10 and 11 have been closed off to all other staff who work in the building."
Asked if other members of the Cabinet, such as Rishi Sunak and Michael Gove, would be tested the spokesman said: "Look, we have all been observing the advice on social distancing, we have wherever possible been using social distancing, we have been taking steps and following the same advice we have been giving the public.
"But I'm not aware of any further testing, if people start to display symptoms then they are advised to self-isolate."
Asked if Mr Johnson had recently come into close contact with the Queen, the spokesman said: "A significant period of time ago.
"He's been conducting the weekly audiences with Her Majesty by telephone for at least the last fortnight, and possibly longer."
A Buckingham Palace spokesman confirmed the head of state last saw the prime minister just over two weeks ago.
He said: "Her Majesty the Queen remains in good health.
"The Queen last saw the Prime Minister on March 11 and is following all the appropriate advice with regards to her welfare."