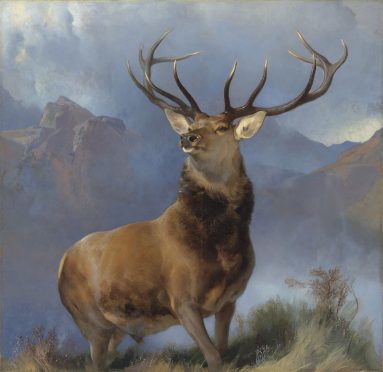 One of Scotland's most famous paintings could be saved for the nation after a plan was agreed with its current owners.
The Monarch Of The Glen, by Victorian artist Sir Edwin Landseer, had been due to go under the hammer at auctioneers Christie's in London next month – a move which could have seen it end up abroad.
But the National Galleries of Scotland (NGS) has now entered into a partnership agreement with current owners Diageo, aimed at securing the instantly-recognisable 19th-century artwork for permanent public display in Scotland.
Under the arrangement, the drinks giant has agreed to gift half the estimated market value of the painting to allow NGS the opportunity to acquire the work.
Gallery chiefs now have four months to raise the £4 million necessary to bring the painting into the collection.
If successful, it will mean the painting passes from private to public hands for the first time in its history.
Sir John Leighton, director-general of NGS, said: "We are delighted with this grand gesture by Diageo which offers a once-in-a-lifetime opportunity for this major work to be acquired for the nation.
"The Monarch Of The Glen is an iconic image which is famous across the world.
"The ideal home for such an important and resonant picture is the Scottish National Gallery, where it can be enjoyed and admired by millions of visitors in the context of the nation's unrivalled collection of Scottish, British and European art."
David Cutter, Diageo's senior director in Scotland, said: "We are delighted to partner with the National Galleries of Scotland to create the opportunity for the Monarch Of The Glen to remain on public display in Scotland on a permanent basis."
Scotland's Culture Secretary Fiona Hyslop added: "Recent reaction to news of its auction underlined the importance of this painting and I'm pleased the National Galleries and Diageo have agreed a plan to ensure its long association with Scotland can continue."
The Monarch Of The Glen, an oil on canvas, is one of the most famous paintings of the 19th century and has been interpreted in many different ways over the years.
For many, its depiction of a stag surveying the rugged landscape encapsulates the grandeur and majesty of Scotland's Highlands and wildlife.
It has been in private and corporate collections since it was painted in 1851.