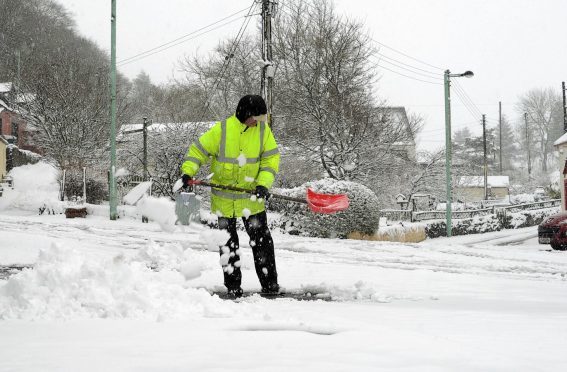 Plummeting temperatures and snowfall across Scotland have resulted in weather warnings being issued across the country.
Wintry weather overnight on Thursday and throughout yesterday resulted in the Met Office issuing yellow warnings and advice to drivers to watch out for icy conditions on the roads.
Drivers across Scotland experienced major delays on their commute to work yesterday morning after waking up to frosty windscreens.
Heavy snowfall affected much of the West Coast, Highlands and Caithness areas, as well as number of high altitude and inland regions yesterday.
Meanwhile, areas closer to the coast such as Aberdeen, Aberdeenshire and Moray experienced chilly temperatures dipping below freezing, but no snowy weather.
Orkney, Shetland and the Western Isles have been slightly warmer, and have avoided much of the snowfall affecting the mainland of Scotland.
A spokesman for the Met Office said: "Wintry showers, continuing during Friday and overnight, will lead to the possibility of ice forming as temperatures fall this evening and overnight.
"This will occur primarily on untreated surfaces but perhaps also where grit is washed off by frequent showers.
"Additionally, one to three centimetres of snow (0.3 to 1.18 inches) may accumulate on hills above 200 metres (656.1 feet) and more than five centimetres (1.9 inches) above 400 metres (1312.3 feet).
"Some of the heaviest showers could produce slushy conditions even at low levels.
"Please be aware of possible tricky travel conditions.
"A cold northwesterly airstream will continue to bring heavy showers of rain, sleet, snow and hail through this period.
"Clear spells in between will allow temperatures to fall close to or below freezing – hence the likelihood of some ice."
And the colder weather is forecast to continue for the rest of this weekend.
Much of the north-east of Scotland will enjoy clear skies and sunshine throughout this afternoon, but thermometers will still be just above freezing.
Throughout tonight and into tomorrow morning, snow has been predicted across the central Highlands, but no significant snowfall has been forecast for any other region of Scotland.
However, drivers should keep their deicer ready, as freezing cold temperatures are still expected across the country on tomorrow morning.