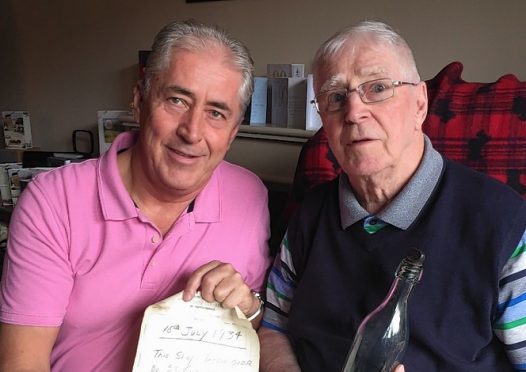 A message in a bottle which lay undiscovered for 83 years has incredibly found its way back to the original owner's family.
Workmen were transforming a building six months ago when they came across the bottle and subsequently handed it into the Living Memories Association (LMA) in Edinburgh.
Not long after this, Laurence Reid, 90, attended the museum to donate old tools that he used to use.
He then got chatting to Miles Tubb, a project worker at the LMA who showed Laurence the bottle with the message inside it.
The reaction from Laurence, however, made the hair on the back of Miles' neck stand up.
The note read: "This shop taken over by St Cuthbert's Co-op Association and altered by Flying Squad."
And it was signed: "N Reid, J Reid and W Barclay."
"Would you believe it, but Laurence instantly recognised the names," said Mr Tubbs.
Unbelievably, the people mentioned in the note were Laurence's dad Neil, brother John and brother-in-law Wullie – they were known as joinery team The Flying Squad.
It turned out the team had been transforming the building on St Peter's Place into a St Cuthbert's Co-operative when Willie Barclay scribbled the brief note and stuffed it in a bottle.
The bottle was then hidden in a wall where it has lay untouched until now.
Laurence's sister Frances married Willie and the couple had son James, who said the family had been stunned by the discovery.
He said: "It must have been the first time in 80 years the building was renovated.
"When he was shown the note, my Uncle Laurence was gobsmacked. He knew the three names in it – Neil Reid was his father, John Reid his brother, and Willie Barclay his brother-in-law, who is my father."
Frances died last year aged 98 and James said it was a shame his mother would never learn of the incredible discovery.
He said: "It is sad that my mother isn't alive to see all this. I am gobsmacked that not only has it been found, but by a coincidence, it has made its way back to me."
To add another twist to the astonishing tale, the shop where the bottle was discovered was once managed by Tom Barclay – James' paternal uncle.
"My father must have told him he had hidden the bottle because when I told my cousin Elizabeth about the remarkable find, she had heard about the note," he said.
"The whole thing is just mind-blowing.
"My father died in 1980 and it has been sitting there all this time."
Laurence, a lifelong Hearts fan who recently celebrated his 90th birthday, was overwhelmed by the find.
"He welled up," said Mr Tubbs. "The hairs on the back of my neck went up and we all had tears in our eyes."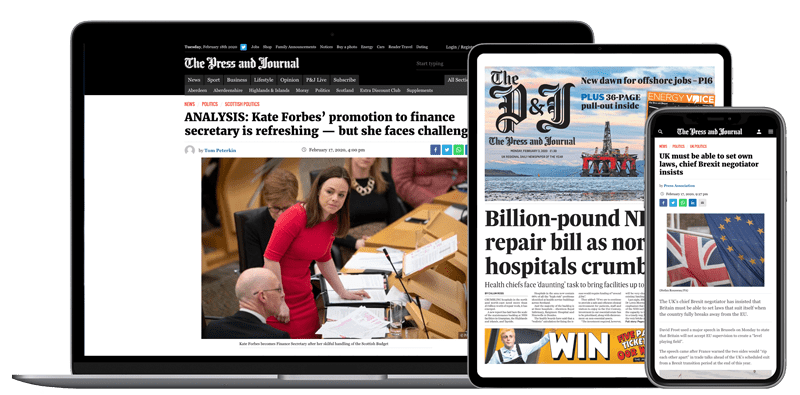 Help support quality local journalism … become a digital subscriber to The Press and Journal
For as little as £5.99 a month you can access all of our content, including Premium articles.
Subscribe