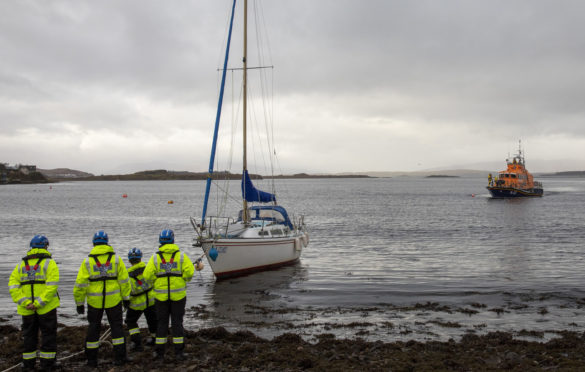 Members of the Oban RNLI team were called out to deal with two incidents in the space of 24 hours over the weekend.
The crew received their first job of the year on Friday evening after reports of a red flare being spotted in Loch Melfort meant they had to carry out a thorough search for any vessels which appeared to be in danger.
The crew launched shortly after 7.25pm alongside the Oban Coastguard rescue team and a search and rescue helicopter.
After an extensive search of the shoreline, the effort was stood down as nothing had been discovered.
The crews returned to base and the lifeboat was made ready for service before again being launched on Saturday morning at about 10am.
Fears for the safety of those on board a yacht were received after the vessel parted from its mooring in Connel Bay and had run aground on the rocky shoreline.
Members of the Oban crew quickly established there was nobody aboard the vessel and made efforts to refloat the yacht so that it could be returned to the shore.
The boat was removed from its perch and taken alongside the lifeboat before being safely brought back to its mooring.
The crew returned to station and were stood down by 12.30pm.