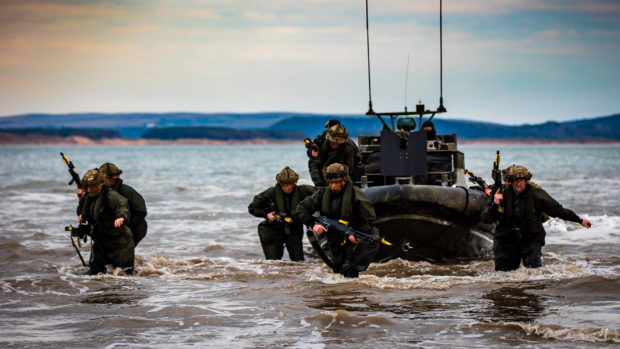 What should have been Europe's biggest war games is to go ahead off the Scottish coast this week, despite the coronavirus crisis.
But Exercise Joint Warrior will be greatly reduced because of the pandemic, said the Royal Navy.
Most of the two-week exercise takes place around Scotland's north, north west and north east coasts.
A spokesman for the Royal Navy said the UK, Germany, USA, Denmark and Norway will be taking part.
The exercise will run from Saturday to April 10.
Training will take place entirely at sea off the North West Coast of Scotland and will also involve the RAF's new P-8A Poseidon maritime patrol aircraft and German maritime patrol aircraft flying directly from Germany.
In the week the alliance turns seventy, we see thirteen NATO nations plus Australia, training alongside the UK Armed Forces on Exercise Joint Warrior here in the UK. This exercise further improves combined operations between the UK and our allies. #JointWarrior pic.twitter.com/yHgcYP9yt2

— Ministry of Defence 🇬🇧 (@DefenceHQ) April 2, 2019
"None of the personnel or assets taking part will be diverted from the COVID Response Force stood up by the MOD to assist civilian authorities," he said.
"All participants will be provided with and guided by the latest health advice from Public Health England.
"Exercise activity in reduced form will feature and UK Submarine Command Course at sea and the UK Mine Warfare Battle Staff validation that will be conducted virtually."
Fourteen nations were involved in war-fighting and counter-terrorism training during the last of the twice yearly Joint Warrior games in October.
The Clyde was a gathering point for many of the ships involved and some of the aircraft operated from RAF Lossiemouth in Moray.