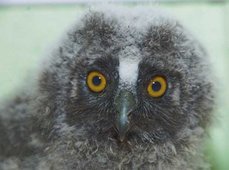 A baby owl is being nursed back to health after it was discovered with an injured wing in Perthshire.
It is thought the long-eared owlet, which has been nicknamed Damian, may have fallen from a tree.
The youngster was rescued by Scottish SPCA workers after they received a call from a member of the public.
Damian was found at the bottom of a tree in a wooded area near Auchterarder on June 2.
The five-week-old bird is now being looked after at the charity's national wildlife rescue centre at Fishcross, near Alloa.
Centre manager Colin Seddon said: "It is likely Damian sustained the injury to his left wing after falling from a tree.
"His wing is now strapped up and the vet is optimistic he will make a full recovery after a few weeks of cage rest.
"In the wild Damian would still be dependent on his parents bringing him food so he will remain in our care until he is old enough to fend for himself."
Owlets leave the nest after around three weeks but cannot fly for another two. They become fully independent after a further eight weeks.
Centre workers are optimistic that they will soon be able to return Damian to his natural habitat.
When fully grown the long-eared owl is medium-sized, and smaller than a woodpigeon.
It gets its name from its prominent head feathers, which are known as "ear tufts", even though they are not ears.
Anyone who discovers an injured or distressed animal should call the Scottish SPCA's Animal Helpline on 03000 999 999.