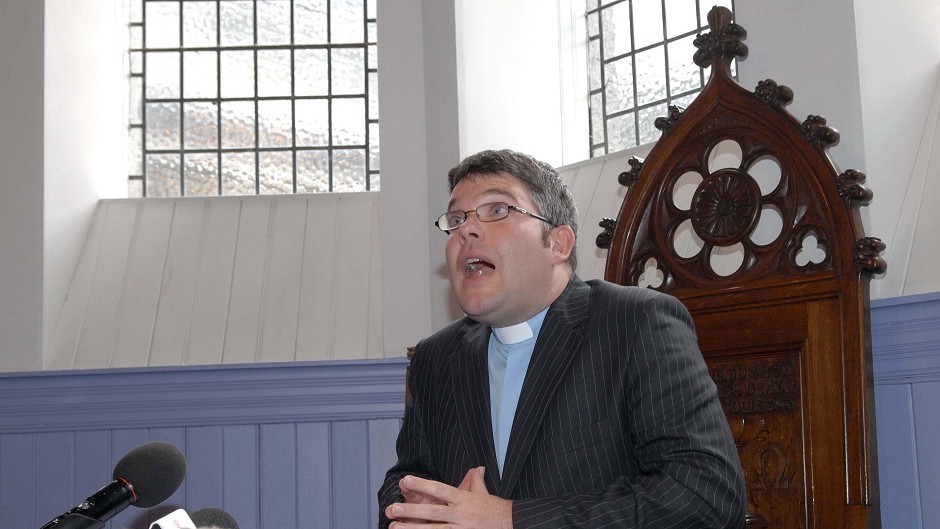 Secular society campaigners have cast doubt over whether changing its stance on gay clergy would help the Church of Scotland attract 100,000 new members.
Scottish Humanist Society chief executive, Douglas Mclellan, said giving Kirk congregations the freedom to appoint a minister in a same-sex relationship if they wished would not necessarily make the organisation more "attractive".
Conservative MSP Alex Johnstone, an elder at Glenbervie Parish Church in Aberdeenshire, believes the move would "ultimately weaken" the Kirk.
It is understood that 28 out of 45 church presbyteries with voting rights have backed the so-called "mixed economy" proposal while 14 have rejected it.
This means it is highly likely that the proposal will be referred to the Kirk's General Assembly in May for final approval.
The debate over the issue was triggered by the appointment of the Rev Scott Rennie to Queen's Cross Church in Aberdeen in 2009.
The Right Rev John Chalmers, moderator of the Kirk's General Assembly, has challenged the church to increase its official membership by 100,000 to about 500,000 by 2025.
He said wanted the church to embrace "radical change" and use the internet to attract people who rarely attend services.
Reflecting on the mixed economy proposal, Mr Mclellan said more conservative interpretations of the Bible were "being left behind" as more people recognised that homosexuality was not a sin.
"Whilst religion is trying to put homosexuality and same-sex marriage at the centre of a lot of what it is trying to say, it does not necessarily make religion more attractive," he added.
"If you look at belief, it is fragmenting.
"People are entitled to their own beliefs and no one belief system should have a privilege over any other."
Free Church of Scotland moderator designate the Rev David Robertson has urged Mr Chalmers to stop playing what he called "fantasy church".
The Highlander, who preaches in Dundee, claimed many official Kirk members were non-believers and "need to be converted, not replicated".
A Church of Scotland spokesman said: "We simply urge people to read the moderator's article very carefully.
"It calls for a careful examination of what we mean by church membership and this is being taken very seriously within the Church of Scotland," he added.
The Rev George Whyte, the Kirk's acting principal clerk, said it fully accepted that people could believe what they wanted and did not claim any special privileges in the Scotland of today.
"But we take very seriously the challenge of serving the people of our nation and beyond," he added.
"We have the right, as others do, to speak of the faith which motivates us."
Mr Whyte said Kirk members formed a significant percentage of people who volunteer to help their neighbour as part of Church and secular organisations.
"They take part in these activities because of what they believe about the Christian life and the importance that Jesus placed on prioritising care for the poor, the weak and the marginalised," he added.
"Such 'good works' are never offered on the condition that people 'join the church' and that's perhaps that's why at the last census 1.7million Scots in the privacy of their own homes identified themselves as Church of Scotland."