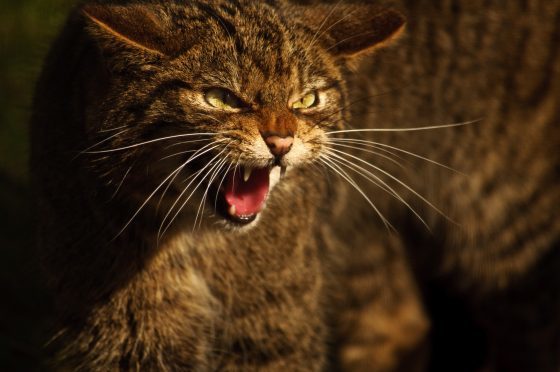 A kitten captured after getting trapped in a garden shed is being tested to confirm if it is one of Scotland's rare wildcats.
The five-month-old has the markings of a wildcat, eats only raw meat and behaved so ferociously when cornered it has been nicknamed Grumpy Cat.
Experts at the Royal Zoological Society of Scotland are now doing DNA tests that will prove conclusively whether the kitten – picked up near Alford – is a wildcat.
There are thought to be fewer than 400 Scottish wildcats left, making them more rare than Bengal tigers.
Grumpy Cat – if confirmed as one of their number – is likely to join the wildcat conservation breeding programme at Highland Wildlife Park.
And she could be mated with Zak, a male wildcat also found as an abandoned kitten in Aberdeenshire in 2012.
Dr Roo Campbell, a project manager for Scottish Wildcat Action, said: "It was found in somebody's shed. We've had previous reports in that area.
"It's a young cat, and it looks quite good so it's getting a DNA test. This cat could be good enough to go into the conservation breeding programme at Highland Wildlife Park."
Grumpy Cat is now being kept in a specially constructed 12ft by 6ft pen at a "foster home" in Alford, which has been kitted out with logs to simulate its normal forest environment.
She is not being allowed any human contact.
Donna Webster, north-east Scotland regional development manager for Cats Protection, which rescued the kitten, said: "It looks about four to five months old. The behaviour it is giving off is that of a wildcat. She growls when you come near her.
"She's very much treated like a wild animal. Think of a tiger, then think of a smaller version. She's quite aggressive, warning you off.
"The growl is a low, long tone. Ears flat and everything. You just wouldn't mess with her, put it that way."
Scottish wildcats are critically endangered due to a loss of habitat, disease and interbreeding with domestic cats.