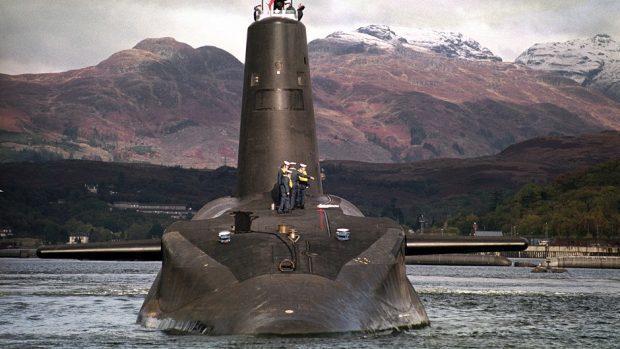 David Cameron has branded Jeremy Corbyn's suggestion Britain's nuclear missile submarines could go to sea without their warheads "absurd".
The Labour leader was the butt of jokes on the issue during Prime Minister's Questions in the House of Commons yesterday.
Mr Cameron said the idea showed Labour was a risk to Britain's national and economic security and to the security "of every family in our country".
The Tory leader called Trident renewal the "ultimate insurance policy". Mr Corbyn in contrast is against renewing the nuclear deterrent, the main decision on which is due to be taken this year.
There has been speculation of a March vote, but a Number 10 spokesman said after the weekly exchange there was no news on when it would happen.
Earlier, former cabinet minister Dame Margaret Beckett – who has written a report on the reasons for Labour's defeat in last year's general election – told a radio programme Mr Corbyn's notion was "a way of exploring other ideas".
She also said her party's divisions over the issue would be "irrelevant" by the next election because the main decisions will have been made.
SNP Westminster leader Angus Robertson used his slot at PMQs to press Mr Cameron on the "catastrophe" in Yemen, asking him to admit Britain is "effectively taking part in a war" there without seeking parliamentary approval.
The Moray MP said thousands of civilians had been killed, including by the Saudi Air Force, which is using British-built planes with pilots trained by British instructors, who are dropping British-made bombs, co-ordinated by the Saudis in the presence of British military advisers.
Mr Cameron admitted Britain does provide training, advice and help "in order to make sure that countries actually do obey the norms of humanitarian law".
But he added: "We have some of the most stringent arms control measures of any country anywhere in the world.
"Just to be absolutely clear about our role, we're not a member of the Saudi-led coalition; British military personnel are not directly involved in the Saudi-led coalition's operations.
"Personnel are not involved in carrying out strikes, directing or conducting operations in Yemen or selecting targets and we're not involved in the Saudi targeting decision-making process."
Mr Robertson called for the Commons committee on Arms Exports Controls to be immediately reinstated.