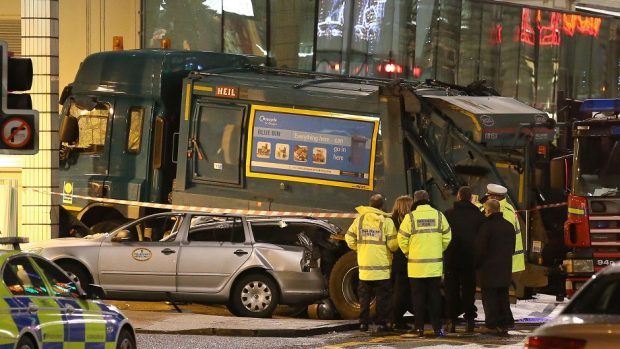 Scotland's most senior law officer will not support a private prosecution of the driver of the Glasgow bin lorry which crashed, killing six people.
Lord Advocate Frank Mulholland's decision comes after a family which lost three members in the tragedy began steps to prosecute Harry Clarke.
Mr Mulholland said the Crown's decision not to prosecute due to insufficient evidence remained unchanged.
The family can only proceed now if they have permission from High Court judges.
In a statement, the Crown Office said: "The Lord Advocate has declined to grant concurrence to the bill for criminal letters seeking a private prosecution of the driver of the bin lorry involved in the George Square fatalities on 22 December 2014.
"The original decision not to take criminal proceedings was made on the basis that there was insufficient evidence in law to prove that a crime had been committed and that position remains unchanged."
The Sweeney/McQuade family want Mr Clarke prosecuted as an inquiry found the crash could have been avoided if he had not lied about his medical history.
Mr Clarke, 58, was unconscious when the Glasgow City Council bin lorry veered out of control, killing six people and injuring 17 others.
Those who died in the crash were Erin McQuade, 18, her grandparents Jack Sweeney, 68, and his 69-year-old wife Lorraine, from Dumbarton, Stephenie Tait, 29, and Jacqueline Morton, 51, both from Glasgow, and Gillian Ewing, 52, from Edinburgh.
The Crown Office later said that no-one would face charges over the crash – a move which was criticised by some of the bereaved families.