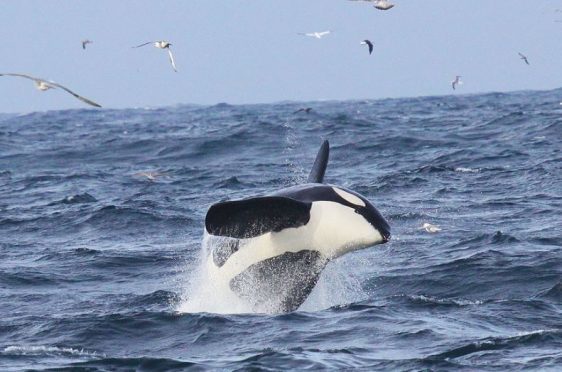 Some exotic visitors will soon be arriving in the waters of the north of Scotland.
Each May, orca whales visit the coastal areas of the Highlands and islands, meaning the region is one of the best in the UK to see the impressive species.
Orcas, Risso's dolphins, humpback and minke whales, all known as cetaceans, can all be spotted from the shore.
And, as a result, the Sea Watch Foundation will launch Orca Watch to help record any sightings of the sea dwellers.
This will then be collated and used to help in the long-term conservation and protection of the animals.
The event runs from May 21-28, to coincide with the creatures' passage through the Pentland Firth.
Foundation volunteer and event organiser Anna Jemmett said: "It is wonderfully exciting to see a whale or dolphin in the wild for yourself and although it takes both luck and patience – and many layers of warm clothes – the rewards are worth it, seeing a cetacean is magical.
"The aim of Orca Watch is to collect vital data on our visiting orcas and also the other cetacean species in the area, whilst informing the public about these special animals just off their shores.
"During the 2015 Orca Watch dedicated sea-watchers saw five species of cetacean – minke whale, humpback whale, killer whale, common dolphin and harbour porpoise – not to mention all the wonderful seabird species to be found."
The foundation will have observers based at Duncansby Head, Caithness, for six hours every day of the watch.
Anyone is welcome to join the volunteers, and there will be short training events on May 21, and May 28.
As well as this there will be various other events throughout the week, organised by the foundation, and Whale and Dolphin Conservation (WDC).
The foundation also holds the National Whale and Dolphin Watch event each July.
Since it began in 2002, about 4,500 sightings at various locations across the UK, from Shetland to the Channel Islands.
For more information on either event visit www.seawatchfoundation.org.uk