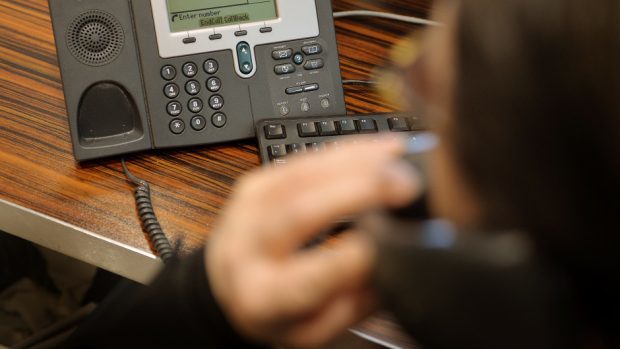 Scots receive more nuisance calls than residents of any other area of the UK, according to new survey results.
Consumer watchdog Which? found that 29% of Scottish residents said that they received 11 or more nuisance calls in the last month compared to 17% in the rest of the UK.
Unsolicited calls about PPI, accident claims and energy deals were the most common.
It comes as the Scottish Government hosts its first "nuisance calls summit" with industry and consumer groups.
More than 25,000 people have signed up to the Which? Stop Nuisance Calls in Scotland campaign, calling on government to take more action.
Which? wants politicians to make senior company executives accountable for nuisance-call breaches and to provide m ore help for vulnerable people by installing call-blocking technology.
Alex Neill, Which? director of campaigns and policy, said: "Millions of people are still being bombarded with nuisance calls and our latest research tells us that people in Scotland are being targeted far more than the rest of the UK.
"This summit is a major opportunity for businesses, regulators and the Scottish Government to make a difference by jointly committing to take action against this everyday menace."
Fair Work Secretary Keith Brown, who will attend the industry meeting, said: "Nuisance calls are simply unacceptable and the Scottish Government takes this issue extremely seriously.
"We will use our new consumer powers as a catalyst to protect Scots from the blight of these unwelcome calls.
"The summit is a key way to guide our work and brings together experts from regulators, consumer groups and industry who will work together to find practical ways of empowering and protecting consumers, as well as supporting businesses to be models of best practice.
"With some key powers also remaining reserved to Westminster, we will also be considering what more the UK Government could do and how we best work with them to take concerted action."