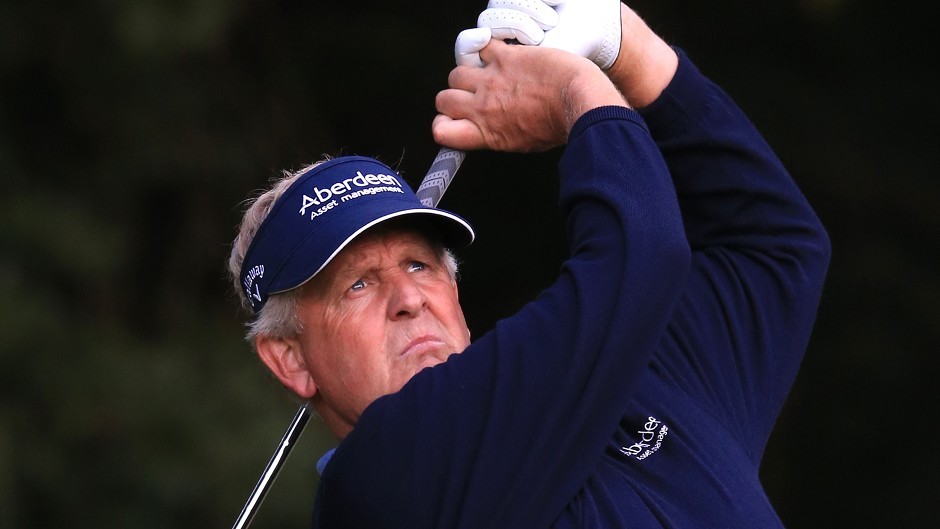 Colin Montgomerie was thrilled to make it through golf's longest day to qualify for the Open championship for the first time since 2010 at Glasgow Gailes yesterday.
The 53-year-old former Ryder Cup captain was desperate to land a place at next month's showdown at Royal Troon, the club where he is an honorary member and his father James was a past secretary.
Montgomerie, who has won three senior majors, made 21 consecutive appearances at the Open until 2010. He landed the third and final place on offer at yesterday's qualifier at Gailes.
Montgomerie had to wait two hours before it was finally confirmed his five-under-par total was good enough to earn a place at Royal Troon.
The Scot carded a five-under 66 in the morning before a level-par 71 in the afternoon to finish third behind Sweden's Oskar Arvidsson (10 under) and Spain's Scott Fernandez (six under).
Montgomerie said: "I was biting my fingernails waiting to find out if it would be good enough.
"I'm delighted. I got tired in the afternoon. I tend to forget I am the oldest competitor here and, at 53, playing 36 holes is a bit of an ordeal.
"They call it golf's longest day and it is. I was up at 5am and there are people here watching until half past eight at night. It is a long day but well worth it.
"It is going to be very special for me. I am delighted I have qualified as I won't be playing at Troon again since it only comes around every 12 years. I would be 65 by then so I won't be allowed to play."
Paul Dunne, who led the Open as an amateur after three rounds at St Andrews last year, was the leading qualifier at Woburn after finishing on nine under par after 36 holes. Englishman Ryan Evans and Robert Rock were the other two qualifiers.
Dunne hopes he can land a place at next week's Aberdeen Asset Management Scottish Open at Castle Stuart ahead of Royal Troon.
He said: "I'm not in the Scottish yet, I'll wait to see if my category will be good enough."
James Heath, Scottish Hydro Challenge winner at Spey Valley on Sunday, was among the Royal Cinque Ports qualifers.
Matthew Southgate, who recovered from testicular cancer a year ago, and New Zealander Steven Alker also secured Open spots while, in the qualifier at Hillside, Jack Senior topped the board while fellow Englishmen Paul Howard and Dave Coupland made it through a five-man play-off.