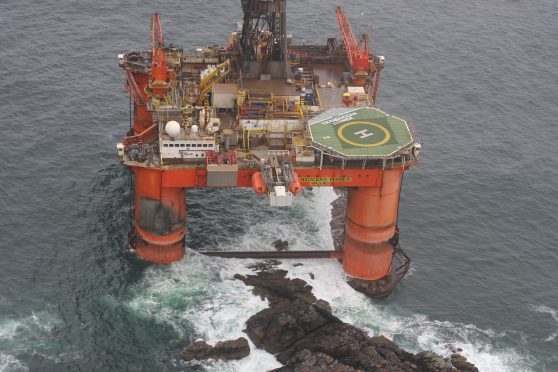 Up to 53 tonnes of diesel fuel are believed to have spilled into the ocean from an oil rig that ran aground on the Western Isles.
And environmental conservationists have accused the Maritime and Coastguard Agency (MCA) of "underplaying the problem".
They say further leakage from the Transocean Winner could kill dolphins, whales, seabirds and plants.
And they believe the next three or four days to be crucial for the future of marine life in the area.
The 17,000 tonne semi-submersible rig – reported to be carrying 280 metric tonnes of diesel – grounded at Dalmore beach, near Carloway, on Lewis, on Monday after breaking free from its tug.
Scottish Environment Protection Agency personnel were yesterday carrying out pollution tests on the beach.
And attempts were made to land salvors and owners on the rig by helicopter during the afternoon, but the operation had to be aborted due to bad weather.
The MCA said two of the four diesel tanks on the rig had been breached and up to 53 tonnes of diesel may have leaked out.
But it stressed that "no sheen or sign of pollution" had been found in the area.
And it pointed out that diesel was "a light and non persistent oil which presents much lower environmental risks than heavy black crude oil".
Friends of the Earth Scotland director Dr Richard Dixon last night said: "There is a slight flavour of underplaying the problem.
"Diesel is not like a crude oil, which would be a problem for months, but diesel is the most toxic of the things you might find in a chemical tanker, which means it would a short-term but quite acute problem.
"If it gets out in large quantities, it could poison dolphins, whales, seabirds and plants in the area."
He added that the current bad weather was a two-edged sword – it meant the diesel would disperse more quickly but it would prevent anyone from getting on the rig to stop the leak.
Dr Dixon said: "The next three or four days will be crucial.
"The biggest problem will be if the rig suffers further damage, but they can't get on there to do anything about it."
Highlands and Islands' Green MSP John Finnie said the grounding of the Transocean Winner showed the urgent need for an Emergency Towing Vessel in the Western Isles.
He said: "I'm repeating my call to the UK Government – reinstate the Western Isles tug and guarantee the future of the Orkney tug, before Scotland has to pay the price."