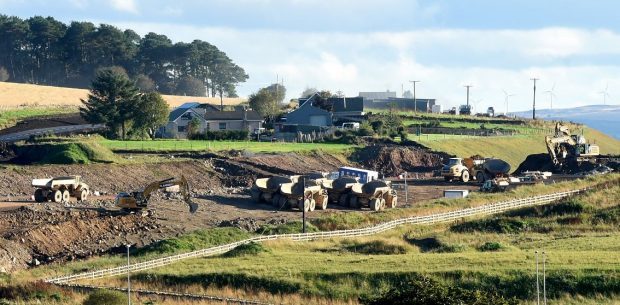 Work on the Aberdeen bypass has been shut down for four days following claims workers' lives are at risk.
Transport Scotland has confirmed only "critical" elements of the £750million route will be worked during the four-day "safety stand down" – which they insist has been planned for weeks.
But last night, union chiefs said they had never heard of such a measure being "predicted".
It comes after the Press and Journal yesterday revealed an investigation is being carried out after a huge steel structure collapsed at the Goval Bridge section of the road, near Dyce.
The 29ft, 60-tonne metal cage – which is used for building walls – toppled last Tuesday.
Whistleblowers contacted the P&J to raise safety fears, and claimed it was lucky nobody had been seriously hurt – or killed.
And within hours of the story being published, Transport Scotland confirmed they would be holding the pre-planned safety stand down.
Steve Dillon, construction union UCATT's regional secretary, said they had only found out about the plan yesterday morning.
He said: "We want answers to not only why our members' lives were put in jeopardy but why our convener was kept completely in the dark. These constructors know how the industry works – and currently both health and safety, and industry protocol on the AWPR are being flaunted. This must be rectified.
"I've never heard of a safety stand-down being predicted."
Transport Scotland has said the stand-down is being held over four days to allow all workers to participate at the same time.
A spokesman said: "We understand that an incident took place on site despite the contractor having robust health safety policies and procedures in place. We also understand that no-one was in the vicinity at the time of the incident. An investigation is currently underway and any lessons learned will be applied to future work.
"Some works will continue to take place this weekend. A safety stand-down, which has been planned for a number of weeks, will take place between Friday, September 9 and Monday, September 12, which demonstrates the contractor's ongoing commitment to health and safety."