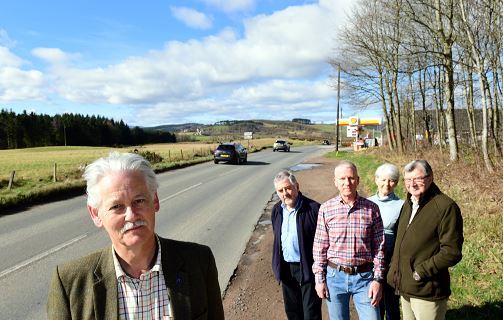 Campaigners have welcomed the introduction of a reduced speed limit on a notorious stretch of a north-east road.
The A980 Torphins-Raemoir road currently has a 60mph limit, with an advisory limit of 50mph at Milton of Campfield.
But, following a report to the Marr Area Committee last week, a 40mph limit will be implemented between Moss-side and the Campfield service station after a public consultation.
Councillors agreed the recommendations from reporter, Ralph Singleton, roads manager for Marr, who will now undertake a four-week statutory consultation, followed by a 21-day period of public feedback.
Local councillor, Peter Argyle welcomed the move on the section of a road, which has been the scene of a number of fatal and serious collisions throughout the years.
He said: "I am delighted to see this come forward after the Torphins community have campaigned long and hard for [it for] decades.
"We can't really hang a hat on the reasons for all the accidents, but something needed doing. The community council also want some signage of accident statistics to be put up – to reinforce the safety message."
Vice-chair of Torphins community council, Liz Moore, added there were near misses "almost every week" and said: "If we can put up a sign, showing the number of fatalities, I think that will be easier for some people to understand."
Campbell Gillies lives just 600 yards away from the junction at the service station and has been campaigning for speed restrictions since he moved there in 1986.
He is so used to the sound of cars speeding along the road he can judge how fast they are travelling.
He added: "I can hear the traffic from my garden and I can tell when they are speeding.
"The junction itself is very hazardous, especially when there are cars parked on the garage forecourt – you have to edge further out into the road to see if anything is coming. I am really happy that someone has finally listened to us."
Kevin Yule, 43, was the most recent fatality on the dangerous stretch of road when his motorcycle crashed with a van last September.