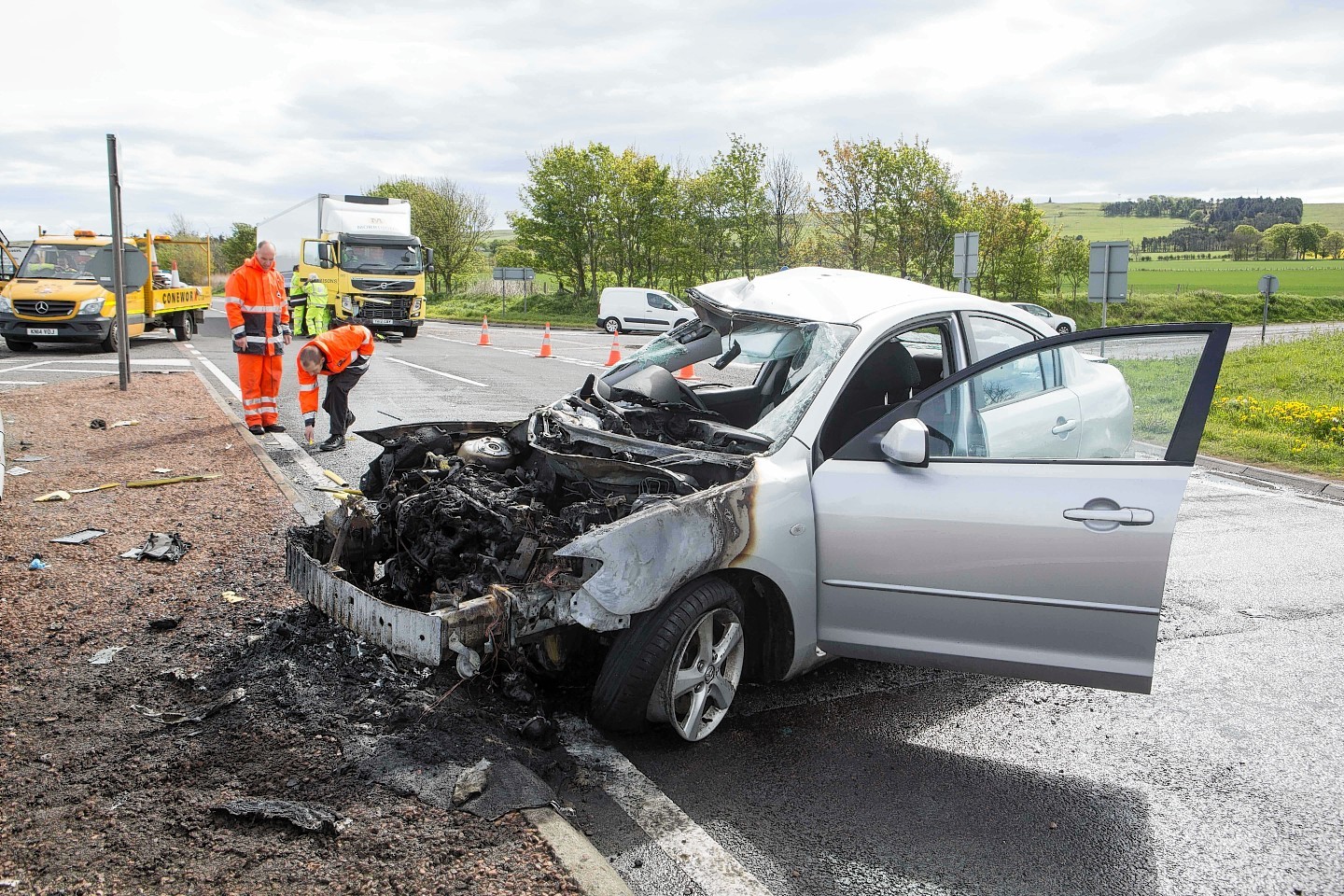 A man was pulled from his burning car yesterday after colliding with a lorry at a notorious north-east junction.
Passers-by rushed to free the seriously-injured man after his car burst into flames at the Laurencekirk junction on the A90 Aberdeen to Dundee road.
The 30-year-old was taken to Ninewells Hospital in Dundee under police escort.
The accident, involving a silver Mazda-3 and Morrisons delivery lorry, happened in the southbound lane at about 8.30am.
It is thought the man had been trying to cross the A90, where it meets the A937 Laurencekirk to Marykirk route, when the crash happened.
Pupils travelling on a school bus behind the car witnessed the collision and were said to have been left traumatised.
The accident happened just a day after campaigner Jill Fotheringham was left "underwhelmed" by a meeting with Transport Minister Derek Mackay to make her case for a flyover at the blackspot.
And last night local residents questioned how many accidents there needed to be at the crossing before action was taken, while Transport Scotland confirmed they would be meeting with police to discuss the accident.
The southbound lane of the A90 was closed around the incident for seven hours with traffic tailing back for miles along the A937 diversion route.
Speaking at the scene yesterday, Inspector Ian Kirkwood of the Aberdeenshire roads policing division, said: "The car was on fire but was extinguished quite quickly on arrival.
"One person was injured and was taken to Ninewells hospital by police escort. The southbound dual carriageway was closed for two hours.
"There was various passersby and police officers on the scene. Folk passed and came to his help.
"Quite a few folk stopped by the road, commuters, but quite a few folk saw it and decided not to stop and we are asking them to get in touch with the police."
The lorry driver was uninjured, but his employers said last night he had been "badly shaken".
A Morrisons spokeswoman said: "Our driver is badly shaken and receiving support from the company and we are deeply concerned about the condition of the driver of the other vehicle."