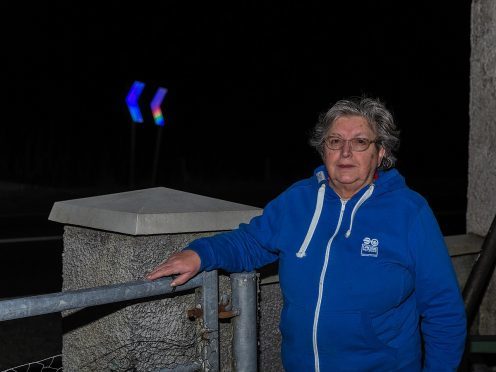 Residents and politicians have called for action at a north-east accident blackspot where there have been 24 crashes in the past year.
Patricia Rettie, 74, says she is living in constant fear of another crash outside her front door in Bainshole, off the A96 Aberdeen to Inverness road, near Huntly.
She suggested Bear Scotland – who maintain the route – should install a speed camera at the spot, which she said is worst just outside her door at a "dip" in the road.
Mrs Rettie – whose son, Peter, lives next door to her – claimed speed was one of the main problems behind the spate of crashes at the spot, with cars often sent flying into their homes.
Six of the 24 collisions have happened this year and two in the past week.
Last night, roads chiefs announced they would be repair the surface of the road next week.
But Mrs Rettie said she would still like more to be done, adding: "When I hear a crash I worry if somebody is going to be dead. There is a dip, you can just see cars going up and down again over it. It is just 50 yards from my house.
"I don't know exactly what they could do but I suppose you could have barriers at the other side of the road, but not at my side.
"I think they should have a speed camera. I think if people saw that they'd slow down. They say they will put in anti-skid on the road, we'll see what that does."
Chairwoman of the Marr area committee and Huntly councillor Moira Ingleby, said: "It is just awful that these crashes have happened and we seem to have had, not just on the A96, a spate of horrible crashes in the last few weeks. My heart goes out to the people who are involved.
"I know conditions can be quite treacherous. Down there in Bainshole you are in a wee bit of a dip.
"If there is something that could be done that could make it better then one would support that."
A Bear Scotland spokeswoman said: "Following the incidents on the A96 near Bainshole Farm, our engineers were on site on Tuesday morning carrying out further inspections.
"Re-texturing works have been programmed to commence next week. No further works are currently planned but we will continue to monitor this location.
"We would advise motorists to always drive to road conditions."
Aberdeenshire West MSP, Dennis Robertson, said: "When there are such a high number of car crashes on a considerably small stretch of road, I do believe that Transport Scotland need to be looking at why.
"I have today asked them to urgently look into this matter and consider whether any safety measures can be put in place.
"I believe action needs to be taken soon to ensure that this does not happen."
A Transport Scotland spokeswoman said: "We have looked into these accidents and our operating company Bear Scotland will be re-texture the surface this month.
"In the meantime, slippery road signs have been put up at the site."