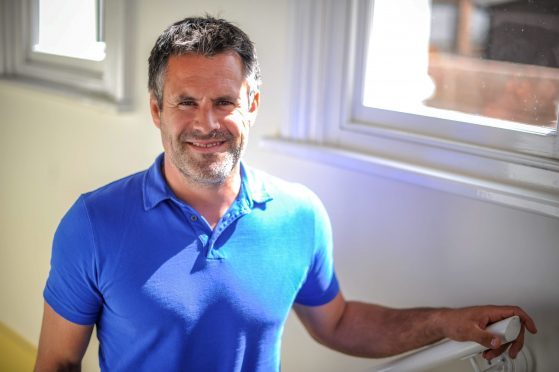 Kenny Logan admits that when his children learned to read, he cried.
An emotional moment for most parents, but it was particularly poignant for the former Scotland rugby international, who is dyslexic.
He hated school, suffering that "throwing-up feeling" every day until he eventually walked out, age 16, with no qualifications.
It would be another 15 years before he learned to read and write properly.
Able to hide it from his teammates for much of his career, he was found out by his wife, Gabby, within weeks of them dating after he pretended, unsuccessfully, to read an article she had handed him.
Painful at the time – no one had ever challenged him and he was worried she'd dump him if she knew the truth – it was the conversation that ultimately prompted him to seek the help he needed. Now, keen to spare others his experience, the father of 11-year-old twins Lois and Reuben is backing a physical literacy programme.
STEP – due to be launched in Scotland by the end of the year – is made up of a series of exercises performed for 10 minutes twice a day.
Delivered online, the modules are aimed at improving balance, eye tracking and co-ordination in pupils who are struggling or at risk of being left behind for a variety of reasons, be it learning difficulties or behavioural problems.
Tailored to the individual, extensive trials have shown that participants learn more efficiently, socialise more easily and engage more positively both in as well as outside the classroom.
And winger Logan, 44, who won 70 caps for Scotland between 1992 and 2003, has seen the difference it can make first hand in his own children.
"I cried when they both read because I was thinking if they can't, I'm going to be feeling really sick," he recalls.
"Every time I walked to school the tension in my stomach was horrific. I battled with that all through my school life."
He missed three months of primary and at secondary ended up in the "remedial" class with other pupils regarded as "thick".
"Looking back now, I was probably a bit depressed," he adds, remembering that his only solace came from sport, which a PE teacher encouraged him to pursue.
Eventually another member of staff suggested that he was dyslexic, which at the time he assumed could be sorted out by a visit to the doctor and a fortnight of antibiotics.
Her help after school enabled him to read his first book, Lassie, managing a page a day, when he was 15.
But, notwithstanding that progress, one day he left 10 minutes into an exam, having only written his name, never to return.
"It's not the school's fault. I don't blame the teachers – I blame the system," says Stirling-born Logan.
"Why should kids feel like that? You need to find the star in them and celebrate it.
"If a teacher does that they have done their job. If they have done that and he's good at maths or science, they've done an even better job.
"But don't let 20% of the kids leave thinking they're rubbish."
The former Strictly Come Dancing contestant, who had trials for Dundee United and Hearts as a schoolboy but chose rugby, believes the physical literacy programme he undertook aged 29 improved his game in his final playing years.
And more importantly, the "ashamed" little boy with no self-esteem whose stomach was forever tied in knots is long gone.
For more information about STEP, visit steptoday.com