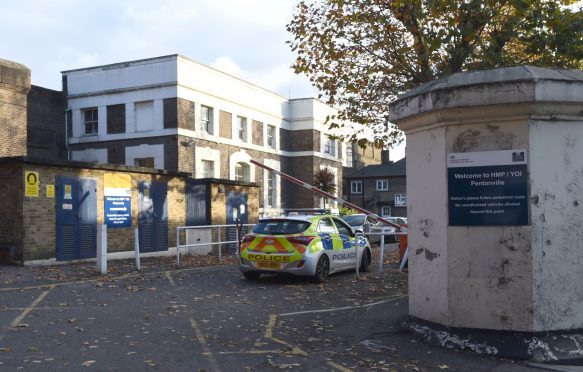 Two prisoners are on the run after reportedly using diamond-tipped cutting equipment to break through cell bars in an escape uncovered when jail staff found mannequins in their beds.
The inmates are said to have scaled the perimeter wall at HMP Pentonville in north London.
Police launched a manhunt after the escape of the men, aged 28 and 31, was reported shortly before midday on Monday.
The episode comes only hours after a major disturbance at another prison, HMP Bedford, and will spark fresh questions about the state of jails in England and Wales.
HMP Pentonville is a category B Victorian prison which opened in 1842 and holds more than 1,200 adult men.
The prison was last year singled out by former justice secretary Michael Gove as "the most dramatic example of failure" within the estate.
Inmate Jamal Mahmoud, 21, died after being stabbed at the jail in an attack on October 18, which left two others injured.
In 2012 convicted murderer John Massey escaped from Pentonville by climbing over a wall using a makeshift rope made out of bed sheets.
The killer, who was sentenced to life for shooting a man with a sawn-off shotgun at a pub in Hackney, east London, in 1975, was recaptured after 48 hours on the run.
Figures show that in 2015/16 there were two escapes from prisons, and the number has not exceeded two in any financial year since 2007/08.
A report published by the Ministry of Justice earlier this year said escapes are "rare" and "taken very seriously". None of those that escaped were still at large by the end of April, it added.
Scotland Yard said police were called to Pentonville shortly before midday on Monday after two male inmates had escaped.
A Met Police spokesman said: "Police in Islington were called to HMP Pentonville at 11:44pm on Monday, November 7 following reports of two escaped prisoners.
"Officers attended and established with prison staff that two male prisoners, aged 28 and 31, escaped from the prison. Enquiries are ongoing to locate them."
A Prison Service spokeswoman said: "Public protection is our top priority and we take escapes from custody extremely seriously.
"We are working closely with the police and are urgently investigating the matter. Two prisoners at HMP Pentonville were found to be missing on Monday 7 November."
Last week Justice Secretary Liz Truss unveiled a package of measures aimed at reforming prisons after a slew of warnings about violence and safety behind bars.
The strategy includes a recruitment drive to add 2,500 new officers to the frontline and "no fly zones" to stop drones dropping drugs and other contraband into prisons.