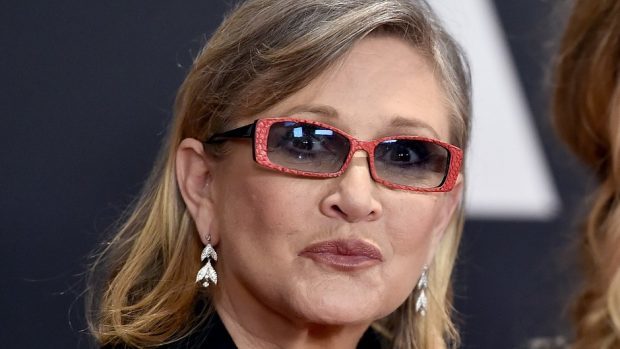 Star Wars actress Carrie Fisher has been taken to hospital after suffering a cardiac arrest on a London to Los Angeles flight, according to reports.
Celebrity news website TMZ said the actress was given CPR by passengers on board before the plane landed at Los Angeles International airport (LAX) and she was taken to a nearby hospital.
US YouTube star and actress Anna Akana tweeted about seeing the 60-year-old, who starred as Princess Leia in the sci-fi franchise, fall ill.
She said: "Don't know how else to process this but Carrie Fisher stopped breathing on the flight home. Hope she's gonna be OK.
"So many thanks to the United flight crew who jumped into action, and the awesome doctor and nurse passengers who helped."
United Airlines said a passenger on flight 935 was "unresponsive" and the Los Angeles Fire Department (LAFD) said firefighter paramedics "aggressively" treated a cardiac arrest patient at LAX at around 12.11pm on Friday.
The Los Angeles Times quoted a fire department source as saying Fisher was "in a lot of distress on the flight", while NBC News cited sources saying her condition was "not good".
Her co-stars and celebrity friends sent messages of support upon hearing the news.
Mark Hamill, who played Luke Skywalker alongside Fisher, said: "As if 2016 couldn't get any worse… sending all our love to carrieffisher."
Talk show host Graham Norton said: "carrieffisher Don't even think about it!! This planet needs you on it! Sending so much love xxx"
Star Wars actor Peter Mayhew, who starred as Wookie Chewbacca, alongside Fisher, tweeted to say: "Thoughts and prayers for our friend and everyone's favorite princess right now.. carrieffisher"
Game of Thrones actress Gwendoline Christie, who starred in The Force Awakens as Captain Phasma, tweeted: "The whole world is sending you so much love! Sending you the universes most powerful Force XXXXX"
A spokeswoman for police at LAX airport said: "Los Angeles police responded at 12.15pm to Terminal 7 regarding a female victim who went into cardiac arrest.
"Upon arrival the LAFD (Los Angeles Fire Department) was already performing CPR on the victim and the victim was transported to a local hospital for further medical treatment."
A spokesman for the LAFD said: "At 12.11pm the Los Angeles Fire Department responded to LAX International Airport, Gate 74, for a patient on an inbound flight in cardiac arrest. LAFD firefighter paramedics were standing by for the plane's arrival, provided advanced life support and aggressively treated and transported the patient to a local hospital."
Fisher has been on tour promoting her memoirs titled The Princess Diarist.
The actress made headlines recently with a revelation from her book claiming she had an "intense" affair with her co-star Harrison Ford during the making of Star Wars.
She claimed she had a three-month romance with Ford – a married father-of-two at the time – which she kept secret for 40 years.
She told People magazine: "It was so intense. It was Han and Leia during the week, and Carrie and Harrison during the weekend."
Fisher was 19 at the time of the alleged affair in 1976, 14 years younger than Ford, who was 33.
She returned to the role to star in 2015's Star Wars Episode VII: The Force Awakens and is set to reprise it for Star Wars VIII which is scheduled for release in December 2017.
The actress was born in Beverly Hills, California, to actress Debbie Reynolds and singer Eddie Fisher, who also found fame hosting his own television show.
She made her acting debut in 1975 in Shampoo, starring alongside household names such as Warren Beatty and Goldie Hawn.
Following her role in the first instalment of the Star Wars Trilogy, Episode IV: A New Hope in 1977 , she went on to appear in the 1980 hit, The Blues Brothers.
During the same year (1980) she graced the cover of American music magazine, Rolling Stone, alongside her Star Wars co-stars, as they promoted The Empire Strikes Back.
Appearing on the Graham Norton show earlier this month, she referenced her comments about her alleged affair with Ford, saying she thought her revelation had "bugged" him as he is notoriously private.
She told Graham Norton: "I had no idea it would cause such a sensation – 400,000 news sites picked up on it and it became a little embarrassing.
"They made a lot of things up which I now have to talk about – I never said he was bad in bed."