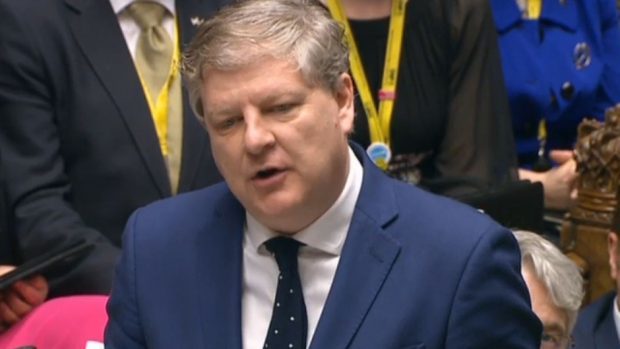 SNP Westminster Leader Angus Robertson has urged Theresa May to secure a UK-wide approach to Brexit or face the "consequences".
The Moray MP accused the prime minister of snubbing "months of compromise suggestions" from the Scottish Government.
And he challenged her to give examples of issues she had raised on behalf of Scotland at the recent EU Council summit, the last to be held before the Brexit negotiations commence.
Speaking in the Commons yesterday, the SNP deputy leader said: "Last July, we were told by the prime minister herself – I am sure that she remembers saying these very words – that she would not trigger Article 50 until she had a UK-wide approach.
"She knows that she has no agreement with the devolved administration, despite months of compromise suggestions from the Scottish Government.
"Will the UK Government, even at this very late stage, use the next few days to secure a compromise UK-wide approach, or do you still plan to plough on regardless, even though you know what the consequences will mean?"
On Monday, Nicola Sturgeon blamed the UK Government's lack of compromise over Brexit when announcing she would take steps to hold a second independence referendum.
Responding to Mr Robertson, Mrs May said "issues that matter" to both the Scottish people and the people "of the whole of the UK" – jobs, growth and competitiveness – had been raised at the meeting.
She also highlighted the importance of the UK single market to Scotland and later added: "The evidence is that the majority of the Scottish people do not want a second independence referendum."
Meanwhile, Scottish Labour leader, Kezia Dugdale, has written to 150,000 Scots to make the case for the union.
She stated: "Scotland doesn't need or want another referendum, and I will do all I can to oppose the SNP's proposals."
Scottish Conservative chief whip, John Lamont, also vowed to oppose the "unwanted and divisive" proposal "all the way".
He added: "The bottom line is that the SNP Government is trying to rail-road Scotland into a second referendum – because it knows people don't agree with them."
Scottish Liberal Democrat leader Willie Rennie said it was "absurd" the SNP were refusing to confirm whether its plan would put Scotland back in the EU.
He added: "The SNP are using those that voted Remain for their own ends. With the SNP, independence comes first and everything else comes second."