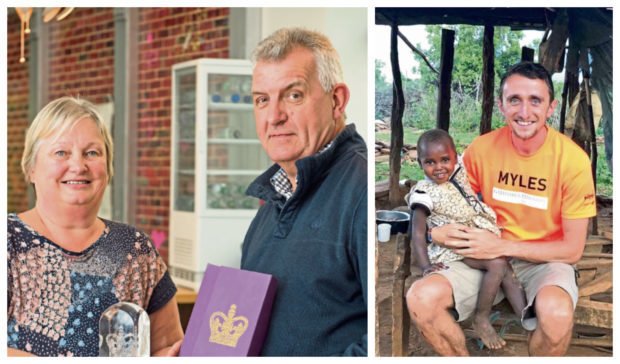 As cakes are cut, bouquets are thrown and the first flutter of confetti hits the floor, every year May marks the official start of wedding season.
Couples up and down the country are sending invites and receiving RSVPs, counting down the days until they tie the knot.
But as a nation we have been counting down the days until one very special wedding in particular, between a certain party prince and the American actress who tamed him.
Harry and Meghan have been the names on everyone's lips, and their wedding today is expected to pull in up to a billion royal TV viewers around the world.
Alongside the couple's personal guest list, some 1,200 lucky members of the public have been invited to join them.
The citizens will be a part of a historic day in British history as Prince Harry and Meghan Markle say their vows at St George's Chapel in Windsor Castle.
But snagging an invite to the wedding of the year is no mean feat.
Selected by local Lord Lieutenants, individuals from all corners of the UK were carefully chosen for the exceptional work they carried out in their communities.
Here at the Press and Journal, we have managed to track down some lucky attendees from the north and north-east to find out more.
MYLES EDWARDS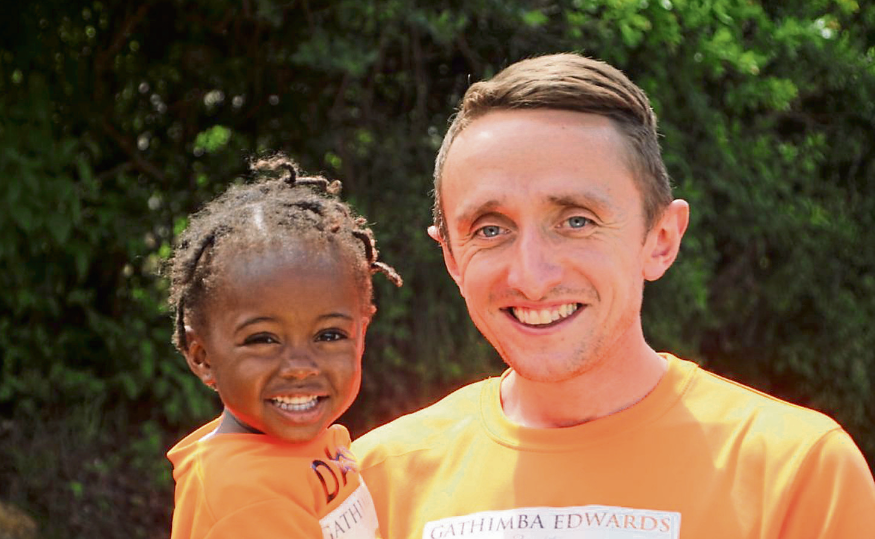 Not yet 30, Myles Edwards, from Aberdeen, has accomplished a lot despite his tender years.
Already a champion runner and a successful university graduate, in 2014 Myles helped to found the Gathimba Edwards Foundation, a charity which gives hope to disadvantaged children across Kenya.
The idea started on the running track when Myles met Kenyan international Gideon Gathimba during an event to mark the opening of Aberdeen Sports Village in 2009.
A firm friendship between the pair developed, before Myles travelled to Kenya to start training with his new companion.
While he was there he witnessed extremes of poverty he had been unprepared for.
A visit to an impoverished children's home in particular provided the catalyst for both he and Gideon to establish the Gathimba Edwards Foundation (GEF).
"We started out by trying to get mattresses for 22 kids in desperate need," said now 29-year old Myles.
"And it just grew from there."
Inspired and determined to help, a series of initiatives, sponsorships and donations saw the children's home transformed, with electricity, bedding and clothing.
Enough money was raised to send the children to school, giving them the chance at a better life.
But the GEF hasn't stopped there, and since its inception now funds the education for close to 300 school-age children while completing 29 new houses for more than 100 disadvantaged young people.
Despite his hard work, Myles was amazed to have his efforts recognised on a royal level.
"It was a huge surprise to receive the invitation from [Aberdeen's Lord Provost] Mr Crockett," he said.
"I had to read it over a couple of times before believing it.
"The first thing I did was show my girlfriend, Mary, as she really likes Meghan and has been following a lot of the royal wedding media.
"It was possibly a bit unfair of me to do it as I knew she is going to be in Kenya at the time and therefore couldn't be my plus one!
"I'm taking one of my friends from school instead who has been a huge supporter of GEF.
"I've always had a lot of admiration for the charity and community work many of the royals have done – such as Charles's work with the Princes Trust and Diana and Harry's work in Africa.
"In fact I've actually invited Harry to be guest speaker at our GEF dinner in Aberdeen a couple of times but so far he hasn't been able to make it.
"Maybe I'll pop the question in person on his big day," Myles laughed.
"But it really is a big honour for me to represent GEF at an occasion like this.
"It really shows how much we have grown over the years and how much the kids and our team have achieved."
FIONA AND MARTIN BIRSE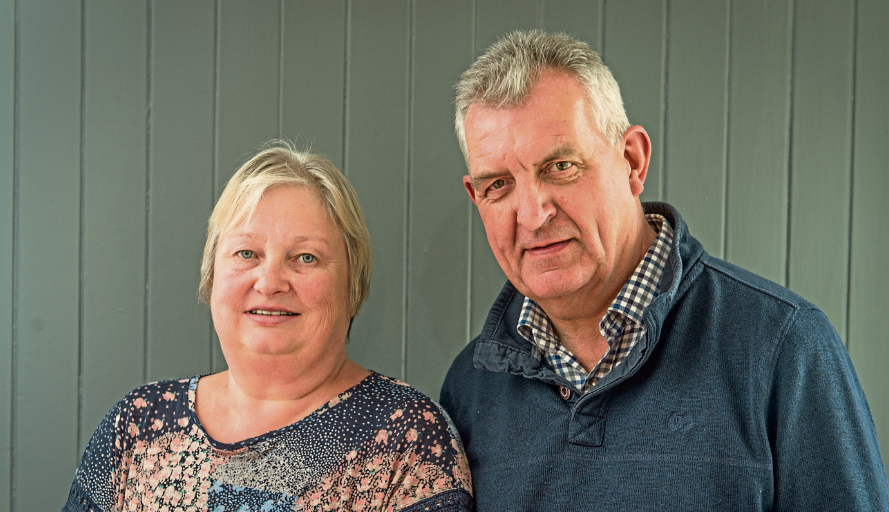 Joining Myles in the capital this weekend is Elgin couple Martin and Fiona Birse.
There's no plus ones in this pairing however, as each of Birses have been invited on their own merit.
"It's funny to explain to people that we aren't going as a couple," said Fiona, 60.
"We are going as two different charity leaders.
"My invitation came as a result of my work with the Elgin Youth Development Group which I helped to found 20 years ago.
"We offer support to young people by running after-school clubs, holiday programmes and just generally giving them somewhere to go where they can get involved in activities and have fun.
"There are a few areas of deprivation in Elgin and really not much for kids to do. It's essential that young people see there are lots of opportunities out there for them, and we help with employability programmes and CV work too.
"Everything is provided for free so no child is excluded.
"The group has grown hugely over the years and in 2011 we received the Queen's Award for Voluntary Service which we are very proud of.
"When I got the invite through for the royal wedding, however, I was absolutely shocked.
"It's a great privilege to go and I can't wait.
"The Lord Lieutenant of Moray, Grenville Johnston, actually hand delivered the invitation as he said that if he had put it in the post we would never have believed it, which is true!"
For Fiona's husband, Martin Birse, 62, the invite was quite overwhelming.
"So many people do such excellent work," he said.
"To be chosen to represent Moray is really tremendous."
It was Martin's outstanding work with the Royal Northern Countryside Initiative (RNCI) which saw him selected, and he has managed the Pitgaveny Farms Estate for the past 32 years.
"We use a mix organic and conventional farming methods with various different crops and livestock," said Martin.
"It's a fully functioning farm in its own right with about 1,400 hectares of land, but the RNCI's remit is much more than that.
"It's about teaching young people where their food comes from and how it gets there.
"We speak to primary ones right up to fifth and sixth year pupils and get them to be as hands-on as possible at the farm.
"Everything from agriculture to veterinary services to housing developments and technology is covered.
"It's wonderful to be recognised for the work we do.
JAMIE SUTHERLAND
But even if you're not lucky enough to be directly invited, the royal wedding will be hard to miss.
From street parties to live TV coverage, celebrations will take place across the country, with Balmoral Castle even offering visitors complimentary wedding cake on the big day.
For self-confessed royals fan Jamie Sutherland, from Aberdeen, the date brings back memories of the last royal nuptials.
"I camped out on The Mall the night before William and Catherine's wedding in 2011," the 33-year-old said.
"I saw them on the balcony when they addressed the crowd.
"It was a great day and I've no doubt that this wedding will be a wonderful celebration too.
"I'm hoping to head up to Balmoral for the day and watch the events from there."
But just what is it about the royals that captures our imagination?
For Jamie, at least, it's their unwavering strength and elegance.
"In my opinion, none of the royals get credit for the good work they do," he said.
"I admire the way they handle everything, particularly in any kind of crisis where they are always sure to say and do the right thing.
"It was about 1997 when I first started to really respect what they do.
"I was on holiday with my family in Arran when the Queen happened to be visiting the island too so I got to see her in real life.
"It was just a few days later that Diana died, then not long after it was the Queen and Prince Philip's golden wedding anniversary, so I sent a small card with my best wishes.
"In return I received a personal thank-you note [pictured right] from the Queen's lady in waiting herself who mentioned the original trip to Arran which I thought was lovely."
From then on Jamie has enjoyed following the adventures of the Royal Family, and although he won't be camping outside Buckingham Palace anytime soon, he surely won't be the only one glued to his TV screen on the big day.
So whether it's Harry and Meghan's love story, or our very own endless love affair with the royals, today is all about celebration.
After all, a love story is a love story, royal or otherwise.