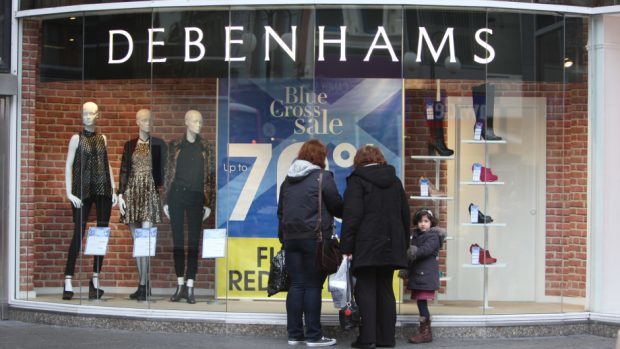 Bosses at troubled department store Debenhams are preparing to shut as many as 20 stores this year in a bid to balance the books.
The company, which dates back to 1778, is reportedly in crunch talks with banks about loan options ahead of a major rent payment due next month.
But it is understood that it may be reaching the limit of its current £520 million of borrowing – prompting the need to look at cost-cutting measures as a contingency.
In October the firm revealed it was increasing the extent of its planned store closures from 10 to 50 over the next three-to-five years, with sales continuing to fall below sustainable levels.
But it is now exploring the use of a compulsory voluntary arrangement (CVA) which would allow it to accelerate these plans and renegotiate rent payments with landlords.
The controversial process can be used by insolvent companies to restructure their debts and pay off creditors.
In recent years it has been used by chains including Toys R Us and Maplin, which were both attempting – ultimately unsuccessfully – to slow the rate of their total collapses.
Other brands including Homebase, New Look and House of Fraser have also turned to the model to help speed up store closures and get back into the black.
It is reported that the number of stores Debenhams will close this year is dependent on how successful it is in haggling with landlords over rent.
The chain spends roughly £290 million each year on rent – the equivalent of 13% of its annual turnover.
The company is yet to comment on the potential store closures, but it is understood that bosses will update shareholders in the coming weeks.
Debenhams has 165 stores in the UK, including Aberdeen and Inverness, and employs around 25,000 people.
Last year it recorded a record pre-tax loss of £492 million and announced that, in the last 18 weeks of 2018, sales had dropped by more than 6%.
In October, chief executive Sergio Bucher said the firm was turning its attention to a core 100 stores in "vibrant and flagship markets".
He said Debenhams had earmarked 10 shops for closure but also had a list of 40 more which were "currently operating positively" but without a "long-term future".