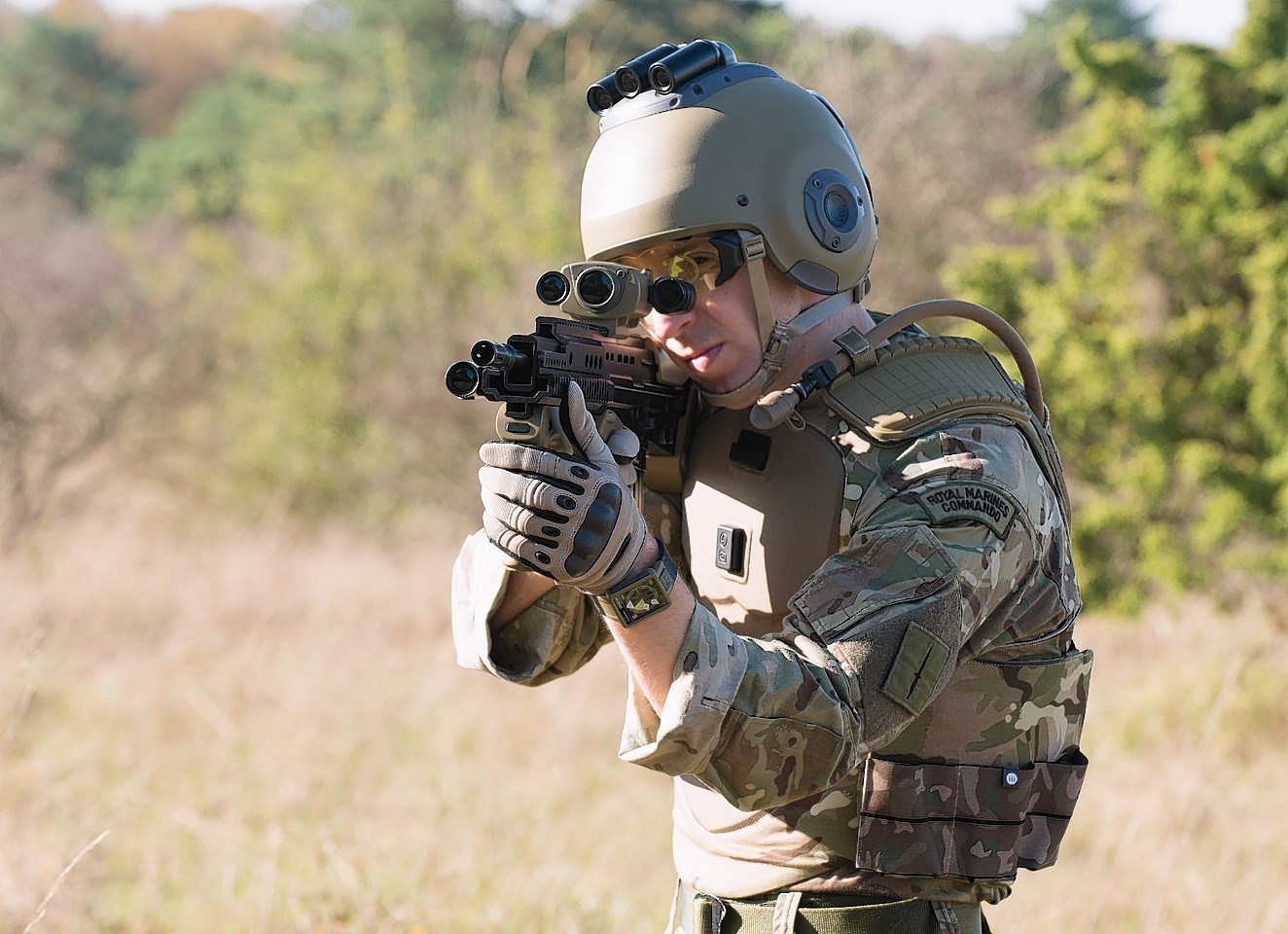 With his sensor-laden body armour, a wrist-mounted life sign monitor and radar eyewear, you would be forgiven for thinking this soldier stepped straight out of a Hollywood imagining of the future of warfare.
In fact, these images show the Ministry of Defence's plans to ensure that British soldiers of tomorrow are fully prepared and equipped to keep our country safe against the threats of the future.
Unveiled at this year's Defence and Security Equipment International arms show in London, the "Future Soldier Vision" concept has been developed by the UK Government's Defence Science and Technology Laboratory (DSTL), alongside industry partners Kinneir Dufort, SEA ltd, and the British Army.
The design includes numerous wearable communications devices, Google Glass-style smart glasses, and cameras capable of being mounted to either armour or weaponry to let whole squadrons share what they are seeing on the battlefield.
It even comes complete with a tiny personal computer, which looks like a smart phone, for soldiers to keep up to date with the latest intelligence.
And it could be ready for real-world deployment in just a decade.
Ross Jones, programme manager at the DSTL, helped to design the equipment.
He said: "The Future Soldier Vision concept provides the Ministry of Defence and industry with an aim point for what the soldier could look like a decade from now.
"It provides a platform to challenge what this future could be and how industry and academia could help the Ministry of Defence to make it a reality."
Defence Secretary Michael Fallon said: "In an uncertain world, it is vital that we continually look at the future threats out armed forces might face.
"The Future Soldier Vision, which is supported by the protected Defence budget, our £160billion equipment plan and the very best of the UK's science and technology expertise demonstrates out commitment to ensuring our soldiers have the kit they need to keep our country safe."