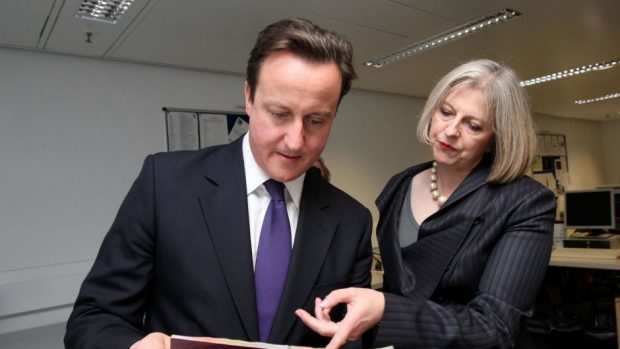 Theresa May will not intervene over David Cameron's leaked resignation honours list because it would set a "very bad precedent".
The new prime minister came under pressure to act after her predecessor's recommendations emerged unofficially at the weekend amid accusations of cronyism.
But today her spokeswoman said it was "standard" for an outgoing premier to submit names and a "long-established principle".
She insisted Mrs May would not interfere in decisions of the honours committees, which are independent of No 10.
She added: "It is standard for an outgoing prime minister to submit a resignation list.
"The names on the list were at the former prime minister's discretion, and they will now go through all the proper processes and committees.
"It would set a very bad precedent for a new prime minister to interfere in the official processes."
Critics have accused the former prime minister of pushing to reward personal aides, political donors and senior figures in the losing Remain EU referendum campaign.
The SNP branded the list an example of "Tory privilege over public service".
Tommy Sheppard MP said the names included businessman Ian Taylor, who financially backed the No campaign during the Scottish independence referendum campaign.
Also among those reported to be recommended is Isabel Spearman, who helped Samantha Cameron with her diary and outfits.
Mr Sheppard said: "This Westminster honours system is ridiculous – we are seeing Tory privilege over reward for public service."
He added that the list "belittles" the purpose of "recognising public service and achievements".
Labour Leader Jeremy Corbyn called for a system that was "fair and more democratic".
The veteran left-winger said he did not believe serving politicians should receive honours because being an MP was an honour in itself.
But ex-minister Desmond Swayne, previously Mr Cameron's parliamentary private secretary, said an honours list was a "relatively light way" of paying off "debts of honour".
He added: "The reality is with any honours list there are names that will warm our hearts and names that will send us into an apoplectic rage."
An outgoing prime minister has the right to draw up a resignation honours list, but the last to formally do so was Sir John Major in 1997.