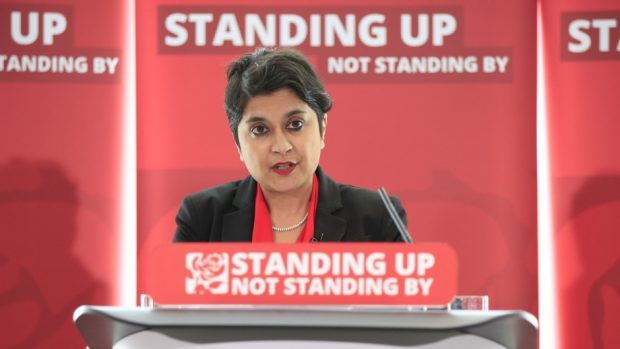 Labour's deputy leader hit out at his boss yesterday over the nomination of the head of the party's anti-Semitism inquiry for a peerage.
Tom Watson revealed he had not been told Jeremy Corbyn intended to recommend Shami Chakrabarti.
It was an unwelcome moment of disunity for the veteran left-winger, who is being challenged for the leadership by former shadow work and pensions secretary Owen Smith.
Mr Watson said the longstanding human rights campaigner was "precisely" the sort of person who should sit in the Lords, but called the timing of the nomination – alongside David Cameron's resignation honours – "not great".
Other Labour MPs and prominent Jews, including Chief Rabbi Ephraim Mirvis, were also critical.
Mr Watson said: "I wasn't aware, I wasn't consulted on whether Shami was going in, I didn't know that we'd provided citations for this particular round.
"And I do think it's a mistake because I don't think agree with resignation honours.
"I think Labour should be very clear that this is a discretionary power that should be removed from outgoing prime ministers."
But a spokesman for Mr Corbyn, defended the nomination, saying Ms Chakrabarti shared the party leader's ambition for House of Lords reform.
He added: "Her career has been one of public service and human rights advocacy. Her legal and campaigning skills, and the trust that she has gained from many ordinary Britons, will be a considerable asset.
"Brexit will put many hard-fought rights at risk, so it is crucial that those equipped with the right skills are given the opportunity to hold this government to account."
Ms Chakrabarti said she was honoured to accept, adding: "This is a dangerous moment for our country and we share vital human rights values that need defending more than ever before in my lifetime."
She was appointed to lead the anti-Semitism inquiry following the suspension of MP Naz Shah and ex-London mayor Ken Livingstone.
The review found there was evidence of "ignorant attitudes" but said Labour "is not overrun by anti-Semitism, Islamophobia, or other forms of racism".
She faced questions over her independence after she revealed she had joined the party.