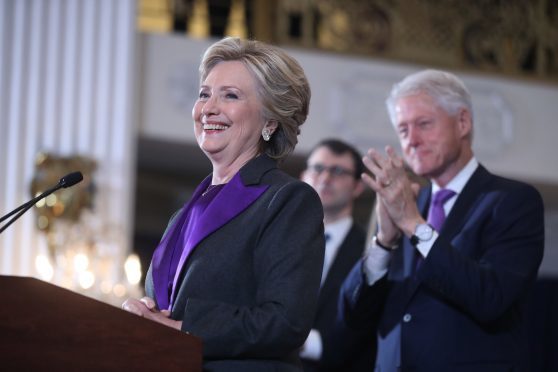 Hillary Clinton has vowed to continue to defend the values of equal rights and the rule of law as she conceded defeat to Donald Trump.
Addressing supporters in New York, Mrs Clinton urged them to accept the result and give her Republican rival the chance to serve as president with an open mind.
After seeing her dream of becoming the first woman president crushed, she admitted that defeat would feel painful for "a long time" to come.
But flanked by her husband Bill and daughter Chelsea, she said it was essential they continued to fight for the values at the heart of her campaign.
"We must accept this result and then look to the future. Donald Trump is going to be our president. We owe him an open mind and the chance to lead," she said.
"Our constitutional democracy enshrines the peaceful transition of power. We don't just respect that, we cherish it.
"It also enshrines other things – the rule of law, the principle we are all equal in rights and dignity, freedom of worship and expression. We respect and cherish values too and we must defend them."
Mrs Clinton said: "The American dream is big enough for everyone. For people of all races, religions, for men and women, for immigrants for LGBT people, and people with disabilities – for everyone.
"I have spent my entire adult life fighting for what I believe in. I've had successes, and I've had set-backs. Sometimes really painful ones. Many of you are at the beginning of your professional, public and political careers. You will have successes and set-backs too. This loss hurts. But, please, never stop believing that fighting for what's right is worth it."
She told women supporters that "nothing has made me prouder than to be your champion."
"I know we have still not shattered that highest and hardest glass ceiling, but someday someone will, and hopefully sooner than we might think right now.
"And to all the little girls who are watching this, never doubt that you are valuable, and powerful, and deserving of every chance and opportunity in the world to peruse and achieve your own dreams."