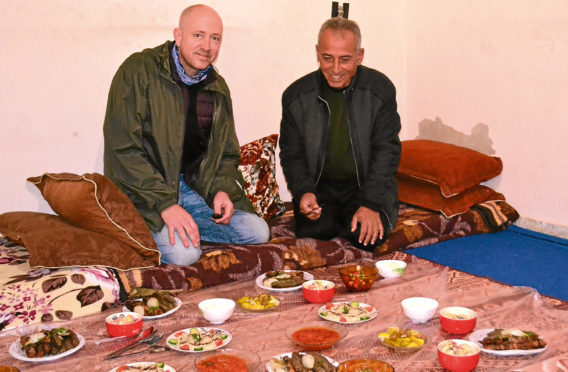 At certain times each day, it was just Rami and me, but we were always at some point joined by others he knew. A great bunch of guys who I got to know well.
This day in question, there were five of us. We were headed to Beit Hanoun, a small city in the north of the Gaza Strip. The plan was to visit a hospital then just allow me to walk around and take photos.
As we entered the city, out of the car window, I spotted a wide open space in among where people lived, that had obviously been bombed.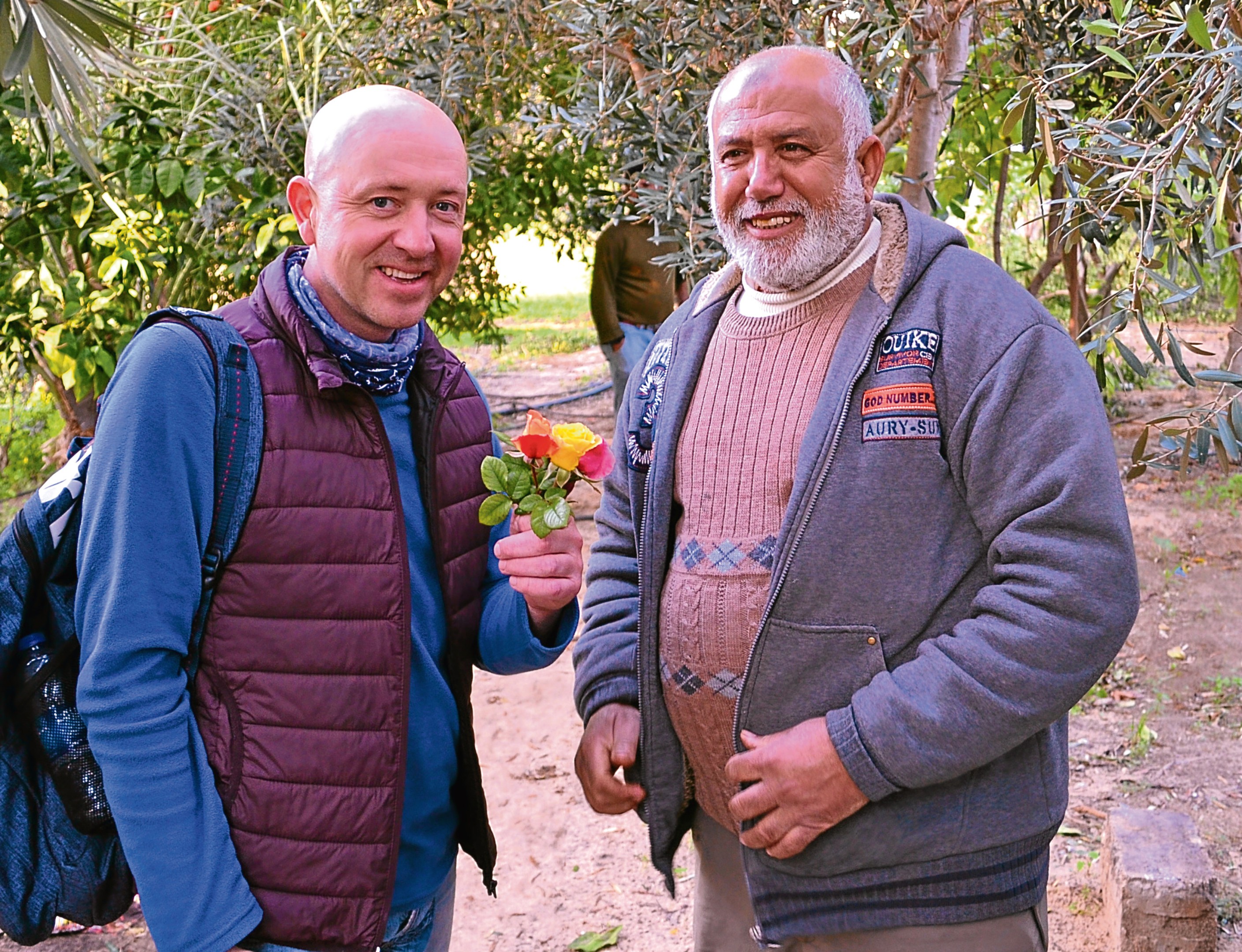 Only what was left of the mosque's minaret remained standing. I got out and took photos, as Rami explained: "This large mosque and compound took a direct hit from Israeli jets in 2014."
"Israel claiming weapons were stored there?" I asked.
"Yes. You know, most mosques in Gaza, not all, but most are controlled by Hamas, so it's very probable it had rockets inside. As you can see, no houses or shops nearby were hit. Just the mosque."
As I've mentioned previously, Israel hits specific mosques because they claim they are used to store weapons and also to fire them into Israeli towns. They also claim that hospitals and schools have been used for the same purpose. Hamas emphatically denies this, as do both the fighter groups I interviewed.
However, it seems, to me anyway, due to freely available-to-view photos and video clips taken from satellites, that such weapons have indeed been stored in certain mosque compounds. That said, is that itself justification for bombing them? Scores of civilians have died in Beit Hanoun due to Israeli strikes over many years.
On arrival at the hospital, we were taken inside and up to a meeting room, where a mix of doctors and officials were waiting. But it didn't go to plan for they were extremely wary of me, concerned I worked for Israel. I actually sat for a long 10 minutes as they discussed me and I was about to suggest to Rami we just leave as I couldn't be bothered with this paranoia.
Eventually they decided they would communicate with me, but to be honest I was pretty miffed by this time. It could have been a much better interview, but they weren't exactly open to me. When I return later in the year, I'd like to research far deeper into the tragic situation of health in Gaza, but that certainly needs more planning in advance from myself and Rami.
In this hospital, the only one in Beit Hanoun, for 50,000 people, I was told the following:
They have 66 beds and can treat up to 250 patients per day. The doctors must make up a list each month of what they need, which gets sent to a central authority in Gaza. Then, of course, permission must come from Israel as to what medicines they allow into Gaza. I was told that the hospital rarely gets what it needs.
"Give me an example of the conditions here right now?" I asked.
One doctor who spoke English replied: "We have no morphine. A very limited supply of antibiotics, little cancer medicine and no radiotherapy facilities."
"If someone comes in today, from, say, a car accident, what's the strongest painkiller you can give them?" I asked him.
"Ibuprofen. People are dying in this hospital when they shouldn't be. Every human deserves treatment, but they are not getting it because of the blockade."
"Who do you blame for the lack of medical supplies?" I continued.
He said very matter of fact: "One, Israel. Two, the Palestinian authority. And three, Hamas."
On leaving the hospital, while simply walking, we came across a bunch of guys playing marbles on a dirt road. I was encouraged to join in, so did. They ranged from around 14 to my age. It was a very poor area and some kids had no shoes on. We spent a good 20 minutes there, all enjoying a laugh and the usual taking of photos.
We kept walking and suddenly a small congregation came out of a nearby mosque, followed by the local Imam himself, who happened to be friend of one of my guys, Muhammad. I was introduced to the Imam and moments later was in a car heading to where the Imam lived, for he had just invited me to his home to drink tea.
Soon, we were in open countryside, the fields being used to grow fruit and veg. It was a joy to be away from the pollution of Gaza City.
The Imam's family have owned this land for generations I was told. They keep chickens and grow avocado and lemon trees, but their main business is strawberries which they actually manage to export.
Standing in the middle of the strawberry field with Rami and the Imam, it all seemed so peaceful and I had to remind myself where I really was.
"How close are we to the Gaza/Israeli border?" I asked.
He pointed out over the fields in front of us. "Just over there, look," came the reply.
A few hundred metres away I spotted an Israeli look-out post. I asked the Imam, what would happen if he simply walked over the fields in the direction of the watch tower.
He smiled. "I wouldn't make it, I'd be shot." He then handed me some strawberries which he had just picked.
Suddenly, Rami said to me: "Do you hear that?"
"No, what?" I asked.
"Listen, and look up," said Rami.
"What is it?"
"An Israeli drone, it's recording."
Standing eating strawberries with an Imam in a field in the Gaza Strip while being watched by Israeli drones – this was about as surreal as life gets I reckoned.
I made a mental note for myself. When crossing back into Israel, if questioned about who I met in Gaza, if I was asked did I meet with an Imam? Simply say yes, they know you did, they're filming you right now.
I was told by the family that where they now grow strawberries, there used to be hundreds-of-years-old olive trees, but the IDF ripped them all up. The reason? It gives them a clear sight-line and no cover for potential attacks against them.
We walked around their fields and orchard, where the Imam's father handed me a bunch of flowers straight from his garden. Genuinely kind, these folks made me, a total stranger, so welcome. Visiting with the Imam and his father, was I think, my single most enjoyable experience in Gaza.
After sampling yet more strawberries, we all sat down and drank hot very sweet tea and chatted about life in general. Again I could hear the Israeli drones buzzing overhead.
We ended our day by visiting the current home of Haifaa, where her mum was busy in the kitchen, preparing a feast. Haifaa's family home was hit by Israeli fire in 2014. Thankfully no-one was in the house at the time, so this family all survived. They have applied for UN funds to help re-build the house, but in 2018, it's still not done, obviously. This apartment I was visiting, they are renting from a friend.
My face lit up as numerous small plates of food were laid out in front of me. All freshly made, an assortment of salad, pickles, various kebabs of chicken and lamb, hummus, olives, yogurt and fresh bread. I was sitting beside Haifaa's father, a lovely man, and ate with gratitude. Quite simply put, this was one of the best meals I'd eaten in a long time. It was also the best food I'd had eaten while in Gaza. Once again, the genuine kindness of the ordinary Gazan people shone through.
Later, we took our freshly-made luscious coffee up on to the concrete roof of the house. It was pretty grim looking down below.
To our left, fields of crops, a Hamas look-out post, more fields and beyond that, an Israeli look-out, then Israel itself behind the wall.
I can leave here at any moment, I thought to myself. The people of Gaza can't. Ever.
l To contact George directly about any of his columns, e-mail nadmgrm@gmail.com