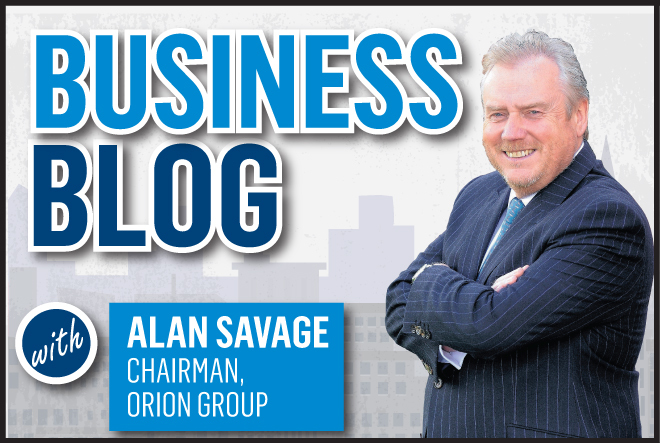 A few days ago, I read Exxon Mobil's Corporate Citizenship report for 2014. We had a copy as Orion is mentioned due to some collaborative work we committed to do with them in Liberia.
The report is excellent and it underlines in a very factual way how seriously big corporations like Exxon take their role as a good corporate citizen.
As a service company, Orion takes very seriously the services that we provide.
In times when the value of a barrel is not what we in the oil and gas business would like, we still have to remember that there are lots and lots of people in less-fortunate positions than we are.
It's why we fundamentally believe that, in both the good and not so good times, we have a responsibility to be good corporate citizens. Simply put, it's the right thing to do.
At our headquarters in Inverness, we support the local community in many ways, from supporting sporting community initiatives to Drummond School, where we continue to work with them on a number of fundraising projects, along with being involved with young engineers across the local region and supporting a three-year bursary programme with the University of the Highlands and Islands.
We have special relationships in place with a variety of charities such as Motor Neurone Disease (MND) Scotland, Maggie's Highland, Marie Curie and the Highland Hospice, where, apart from everyday donations, we also raise money through things like swimming across Loch Ness and golf days at Castle Stuart.
The women in our payroll, accounts and recruitment departments also run in the Inverness charity 5k to raise funds to fight breast cancer.
Farther afield, we have worked with communities in Papua New Guinea, where, of course, there are many challenges as the government works to raise living standards.
While as a business we do move people around the globe to service our clients' staffing requirements, we also actively encourage the use of the indigenous population's skill sets – after all, it's their resources we are helping to develop.
We have just entered into a Private Sector Initiative with the government in Papua New Guinea where, in conjunction with the government of Enga province and our training partners Site International, we have just taken over the running of a training school in Port Moresby donated by ExxonMobil.
As well as running a comprehensive range of training programmes like rigging and computing, we are also building a government-funded "mock" gas plant that will raise the bar so that local technicians and engineers can get the training and development they need to sustain a career in the industry.
This project will be in full swing next year, delivering a more-competent local workforce that helps the community and the clients in obvious ways.
We will be taking this business model to other parts of the world to strengthen our bond with local communities.
I have always found it difficult to swallow the fact that we have to have charitable organisations (why can't governments provide the necessary cash to fully fund hospices, for example?)
However, life isn't that simple and we have charities working arm in arm with public services to provide care for the less fortunate and fund much-needed research.
In recent years, corporate hospitality has taken a bashing as the governance departments within more and more companies find it difficult to draw the line between networking and let's call it "FIFAgates".
So buyers who need to network with suppliers can no longer go, or find it very difficult to justify going, to corporate events.
I think that every corporate event should have a charity to sponsor. I think that every company should choose a charity partner. I think that every charity should write to their local companies and ask them to be their company charity partner.
So the next "golf day" would be attached to a charity, all the prizes would be cash so that they could be donated to the charity partner of the company of the individuals that won them.
Moreover, the golf clubs could put their hands into their pockets and make a donation form the green fees, catering and bar takings.
Then finally, a good old whip round at the end of proceedings from the networkers who have had a good and satisfying day out.
That way, the governance department can sleep that bit easier – if in fact they ever sleep – at night.
Being a good corporate government
The biggest corporate citizen on the block is, of course, a government.
In the run-up to the first Holyrood election in 1999, the SNP calculated that a 1p raise in the basic tax rate would raise £230million a year for public services. It was called the Penny for Scotland policy.
So, by varying the tax rate by 3p they can raise up to £690million and with this money they can deliver a better Scotland by ending food banks, ending child poverty and fully funding things like the capital appeal for the new Highland Hospice.
The right to vary income tax in Scotland has never been used.
The SNP in its seven years in government didn't, probably because, as has been pointed out, raising income tax is unpopular with voters – and political parties, who want people to vote for them, know this.
However, with new legislation giving more devolved powers and their general election landslide victory, the SNP Scottish Government can finally exercise its power to vary the rate of income tax and make Scotland a truly wonderful place.