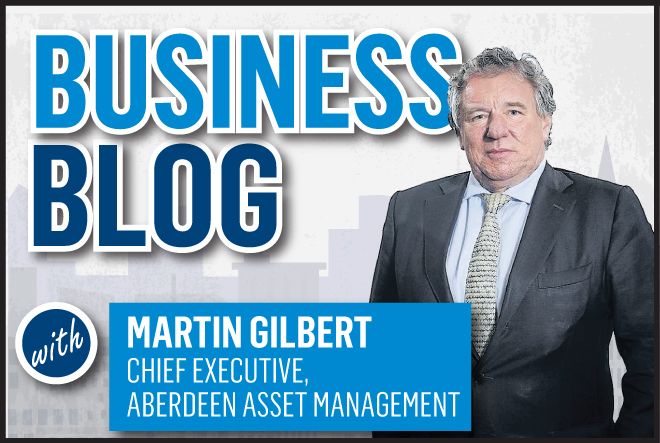 Congratulations to the 17 Scottish firms named as winners of the Queen's Award for Enterprise this year.
I was pleased to see five of them are Aberdeen-based companies, which is encouraging at a time when there's a keen drive to grow and diversify the economy of the northeast in response to the current slowdown in the oil industry.
All five won awards in the international trade category. Unsurprisingly, four of them had their roots in the North Sea industry, though they have successfully diversified their activities internationally. Flowline Specialists, of Oldmeldrum, which designs and manufactures equipment for handling flexible pipes and cables, has grown its overseas operation by 2,600% in five years, with overseas sales representing 55% of turnover.
HRH Geology is a leading operational geology service and solution provider, with a presence in 55 countries, which had already won a Queen's Award in 2013. Online Valves Ltd, a stockist and distributor of valves, is based in Aberdeen but with operations in Houston, Trinidad and Dubai.
The other two local award winners were in the food and catering industry, one of the most promising growth areas for the economy in the north-east. John Ross Jr Ltd, famous for its smoked salmon and fine foods, supplies more than 30 countries, exporting excellence in the form of one of Scotland's oldest resources. Similarly, Entier, a food firm established in 2008 originally catering for the North Sea oil industry but now operating globally is another Aberdeen-based success story. For transparency, I must declare an interest as a very happy, early stage investor in Entier.
Awards were won across Scotland, from FAO27, a family-owned seafood processing firm in Dingwall, to Peak Scientific, which manufactures gas generators in Renfrewshire with 90% of its market overseas. Peak Scientific, along with Edinburgh-based Liquid Gas Equipment, won awards in two categories, for both international trade and innovation.
The Queen's Awards for Enterprise are divided into three categories: international trade, innovation and sustainable development. These are three pillars of enterprise essential to growth. International trade is Britain's economic lifeblood, but we have an increasing problem. We export services very successfully, but last year the UK's trade gap in goods reached a record high of £125billion. That's why every successful enterprise driving up exports is making a vital contribution.
As for innovation, I believe it will be one of the most critical factors over the next decade. I expect our industry to experience high levels of disruption, especially from the technology giants. That isn't something to fear, it's a necessary process of economic growth. What one person calls disruption is someone else's forward-looking innovation, recognising the opportunity to try something new by taking an imaginative step in an entirely new business direction.
Innovation is a catalyst for growth. Businesses need to focus on client needs and opportunities, constantly looking for new generations of products and services to meet those needs. It's a collaborative process, with people from different parts of an organisation contributing new ideas and combining to implement them. Employees should be encouraged to innovate and be provided with opportunities to do so.
At Aberdeen Asset we set up an Innovation Committee to promote this culture of openness to new ways of doing things. It's an essential activity that any commercial organisation ignores at its peril. It's also crucial to the pursuit of long-term goals, which is increasingly being recognised as the most responsible and rewarding strategy for investors.
Business leaders must promote innovation. Steve Jobs, co-founder of Apple, said: "Innovation distinguishes between a leader and a follower." Companies that aspire to lead will innovate. The dangerous time is when a firm is getting bigger. That's when the involvement of more managers and a preoccupation with regulatory requirements can blunt the innovative edge.
The final pillar of enterprise recognised by the Queen's Awards is sustainable development. What does that mean, in a business context? The International Institute for Sustainable Development has suggested a definition: "For the business enterprise, sustainable development means adopting business strategies and activities that meet the needs of the enterprise and its stakeholders today while protecting, sustaining and enhancing the human and natural resources that will be needed in the future."
For me, it's about infusing a long-term view into every area of activity and engaging actively and personally with all stakeholders, including shareholders, clients, employees, suppliers and the communities where we operate.
The hard work, imagination and entrepreneurial initiative of the firms recognised by the Queen's Awards across the UK represent this country's best prospects for growth and wealth creation. Their contribution is vital and they are an inspiration to the whole business community.