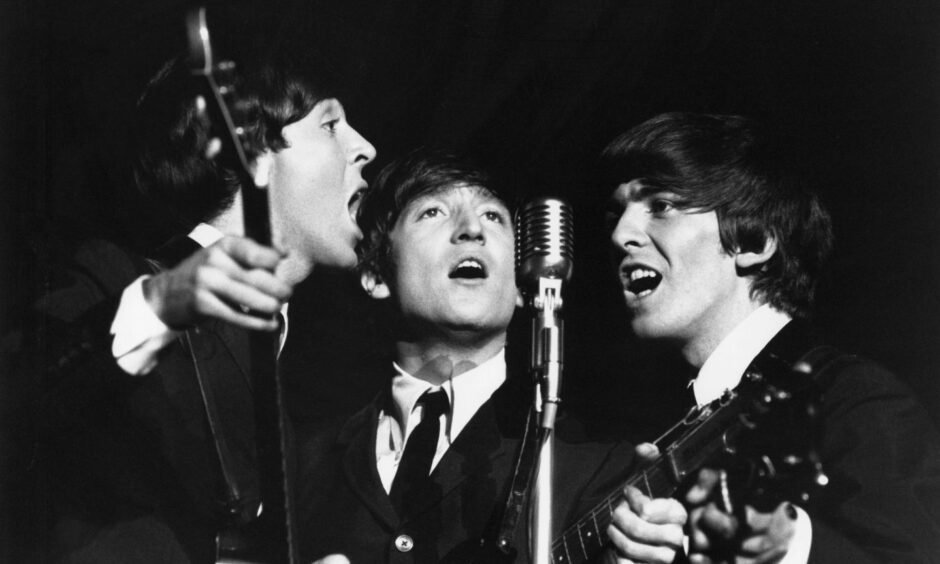 The Beatles were billed as The "Love Me Do" Boys when they performed on a wintry night at the Two Red Shoes Ballroom in Elgin 60 years ago.
It turned out to be a hard day's night for the four fun-loving Liverpudlians.
The late Moray promoter Albert Bonici signed The Beatles for their five-date tour of Scotland which was due to kick off at Keith's Longmore Hall on January 2 1963.
Born to Italian immigrants in Inverness, Mr Bonici helped run his family's Park Cafe in Elgin while booking bands, later building the Two Red Shoes dance hall alongside it.
Because the roads were virtually impassable following a snowstorm, the first night's show in Keith was cancelled and John Lennon flew back to Liverpool.
He returned to Scotland early on the morning of January 3 1963.
The Elgin show started at 9pm and The Beatles were supported by the Alex Sutherland Sextet with admission costing six shillings, which is 40p in today's money.
The Beatles were wearing leather jackets and winkle pickers and 1962 debut single Love Me Do and Twist And Shout were among the songs performed in Elgin that night.
There were only a few dozen fans there at the beginning of The Beatles performance but around 200 by the end of the night which was decent considering the weather.
The show came just a week before the band exploded into worldwide fame as their second single Please Please Me stormed to number two in the charts.
The Beatles were scolded by Elgin landlady
As a student nurse, Adeline Reid was unable to afford the admission price of six shillings, so she had to miss out but she would never forget meeting John Lennon.
She said: "I was in my late teens and stayed at a bed and breakfast near the Two Red Shoes, while studying at Dr Gray's Hospital in Elgin.
"Next door, there was a boarding house where a lot of the acts stayed.
"That day, The Beatles were all hanging out of a window there – with John Lennon nearest to me.
"He held his hand to his heart, saying 'nurse, nurse'. They were cheeky boys, we were not used to that kind of guy up here, they were forward."
Adeline's landlady spared her blushes by reprimanding the future stars.
She did not approve of them talking to her girls in such a shocking manner!
Her account was compiled in Richard Houghton's 2016 book, The Beatles – I Was There, which is made up of hundreds of other fans' stories.
On the same tour, the quartet also played in Dingwall Town Hall and Bridge of Allan before concluding their Scottish dates at the Beach Ballroom in Aberdeen.
The Fab Four played to a handful of fans in Dingwall
The Beatles were in direct competition to the weekly dance in the Pavilion in Strathpeffer when they played Dingwall on January 4 1963.
There was only going to be one winner – and it wasn't the Fab Four!
The organisers were forced to close early because only a handful of fans turned up while at Strathpeffer The Melotones were performing to a 1,000-strong capacity audience!
They played Love Me Do when I looked in the door and I thought: 'No, no, it's not my type of music' and went to the local village hall five miles away to hear The Melotones."
Billy Shanks, then 17, recalled: "The funny thing is that when I went in, the doorman said: 'Before you pay, go up and have a listen'.
"They played Love Me Do when I looked in the door and I thought: 'No, no, it's not my type of music' and went to the local village hall five miles away to hear The Melotones."
Among those at Dingwall Town Hall that night was Margaret Paterson, now a Highland councillor for the town, who was on her first date with her future husband Tommy.
But when it seemed like Mr Paterson had stood her up, she sat on the stage and spent ages talking to Paul McCartney because "he was the nicest looking".
She said: "We got confused and Tommy had gone to the Strathpeffer concert.
"It was supposed to be our first date. I thought The Beatles were tremendous, and they looked really different with their hairstyles."
She later went to Strathpeffer Pavilion, where her date was waiting.
She said: "Tommy and I went on to have a wonderful marriage and nine children."
Penultimate Bridge of Allan date was chaos
The penultimate date of The Beatles' January 1963 tour took place at the Museum Hall in Bridge of Allan in front of "96 drunk young farmers and four women".
Mr Bonici employed Dundee music promoter Andi Lothian to look after the show where admission was five shillings with support from Roy Purdon and the Telstars.
Andi recalled: "The crowd consisted mainly of rather inebriated young male farmers who were wary of these four lads in their strange clothes.
"There were punch-ups in every corner, people were talking over the music and coins were flung on stage – one even hit Paul McCartney's guitar!
"It was chaos. But I escaped to the balcony to listen to the music.
"All I can remember is listening to She Loves You and Please Please Me over the din and being paralysed with excitement."
Taking a gamble with Brian Epstein
The Beatles performed the final leg of the Scottish 1963 tour at the Beach Ballroom in Aberdeen the following evening which was slightly underwhelming.
The following Monday, Andi and Mr Bonici boarded a plane for London to meet The Beatles' manager, Brian Epstein, and begged to have the band again.
Epstein agreed, but on the proviso that it wasn't for dances – but concerts, and it would be £500 rather than £40 a night.
What's more, he wanted a decision there and then!
It was a major gamble, but Andi and Mr Bonici knew they were going to be huge and took the risk and signed the exclusive agreement with Mr Epstein.
A three-night tour of Scotland was organised for October 1963 with dates at the Concert Hall in Glasgow, the Carlton Theatre in Kirkcaldy, and the Caird Hall in Dundee.
The gamble paid off with John, Paul, Ringo and George on the cusp of world domination by the time the concerts came around which unsurprisingly all sold out!
The Fab Four returned to perform at the Caird Hall in October 1964 before giving up touring altogether following an 18-show 1965 UK tour which started in Glasgow.
The Beatles broke up in 1970
The wheels were coming off slowly following the death of Brian Epstein in 1967 and Ringo Starr left the group for two weeks during the White Album sessions in 1968.
George Harrison quit for five days during the Get Back rehearsals in January 1969 after being unable to tolerate any longer the tensions between Lennon and McCartney.
Then in September 1969 John Lennon told his bandmates he was quitting, though the news was kept quiet for business reasons.
On April 10 1970, McCartney issued a press release that stated he was no longer working with the group.
Although speculation had been rife for the previous six months, confirmation that the group was no more still came as a shock to many.
Legal disputes continued long after McCartney's announcement, and the legendary group's dissolution was not formalised until 1974.
Fortunately before Lennon was killed in December 1980, they made up.
"I'm so glad because it would have been the worst thing in the world to have this great relationship that then soured and he gets killed, so there was some solace in the fact that we got back together," McCartney said.
"We were good friends."