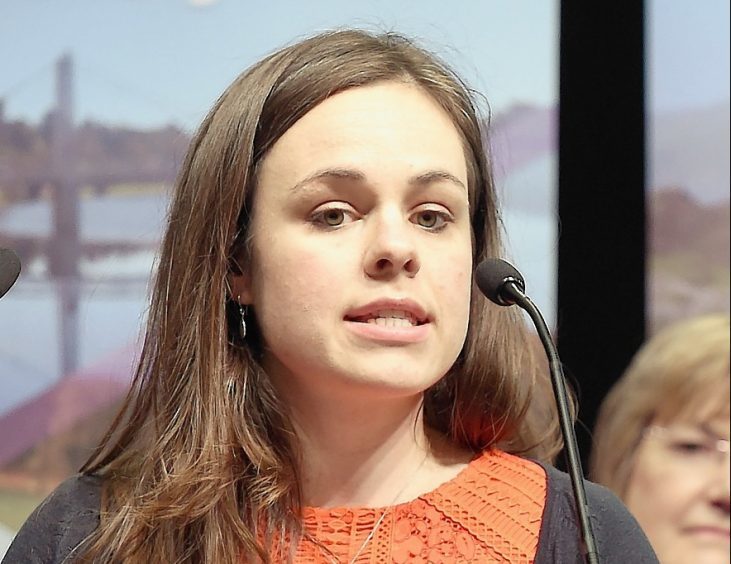 A Highland MSP has been reprimanded by First Minister Nicola Sturgeon for breaking an embargo over a crucial report, the Press and Journal can reveal.
The controversial compromise package from the boss of Highlands and Islands Enterprise (HIE) was released in February.
But Skye, Lochaber and Badenoch MSP Kate Forbes – who has privileged access to certain reports as the parliamentary aide to finance secretary Derek Mackay – published a press release ahead of the report being released to all MSPs.
Highlands and Islands Labour MSP Rhoda Grant called for a point of order in Holyrood at the time, and was told the issue could not be addressed by the Presiding Officer.
Now, the Press and Journal has been passed the letter sent to Ms Forbes reminding her of her duty to respect embargoes.
Minister for parliamentary business, Joe Fitzpatrick, sent the correspondence on behalf of the First Minister.
He said: "In light of the exchanges today, the First Minister has asked me to write to you to remind you of your responsibilities in your capacity as parliamentary liaison officer (PLO).
"PLOs are required to exercise care in the use of any official information to which they have access in the course of their duties as a PLO and, in particular, should respect the confidentiality arrangements.
"I should be grateful if you would bear these rules in mind when undertaking any future PLO activity."
HIE chairman Lorne Crerar's report was a compromise package aimed at brokering peace between the Scottish Government and opponents to the centralisation of the business body, so timing was vital.
A Scottish Liberal Democrat spokesman said he hoped Ms Forbes had reflected on her error.
He said: "While this is just the latest chapter in the omnishambles that is the SNP's ill-judged plans to centralise HIE, we should not forget that breaking the ministerial code is a serious matter.
"In the case of Ms Forbes it has led to the embarrassment of being reprimanded on the instruction of no less than the First Minister.
"Her constituents will have expected better. This should be a lesson for misusing her position as a government insider to manage political fallout in her own backyard."
Scottish ministers provoked fury last year by confirming they would axe HIE's board and replace it with a panel overseeing all of Scotland's enterprise and skills agencies.
Critics claimed it would undermine 50 years of progress in the north, and the Press and Journal's Keep HIE Local campaign was backed by all opposition parties, Highland Council, trade unions and SCDI, as well as former chairmen and chief executives of the agency.
Opposition MSPs joined forces to demand the Scottish Government abandon the plans – which have now been dropped – but Scottish ministers are to press ahead with a new national oversight panel.