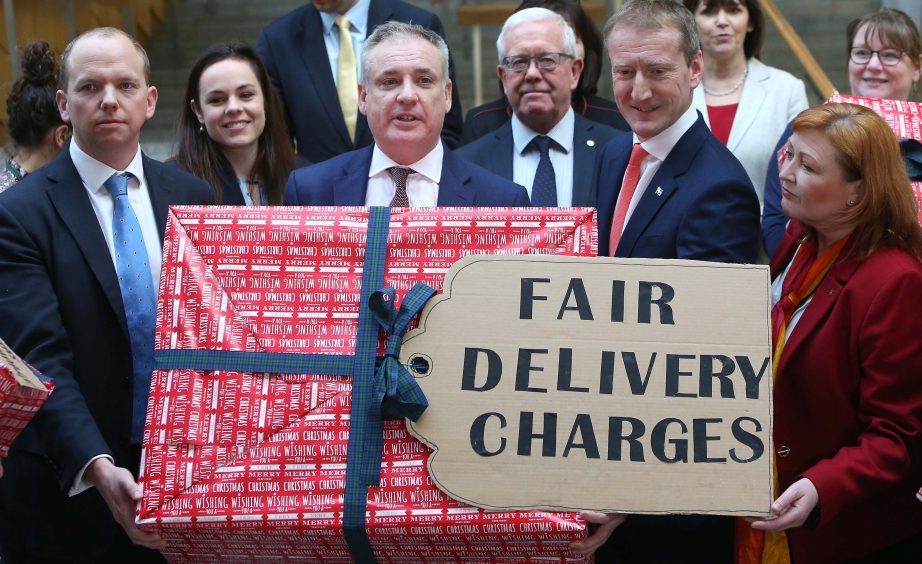 Campaigners against unfair delivery charges have hailed threats of legal action against offenders by the advertising watchdog as a victory – but called for further action to follow.
The campaign against rip-off charges has unearthed widespread examples of homes in mainland Scotland — even in Aberdeen, Elgin and Inverness — being categorised as "offshore" for delivery purposes and incurring substantial and unexpected costs.
Moray MSP Richard Lochhead had submitted a dossier of complaints to the Advertising Standards Authority (ASA) watchdog against more than 120 companies alleged to have made unfair charges, by advertising free UK delivery but adding extra fees for some Scottish addresses at the checkout.
Now, ASA chief executive Guy Parker has intervened with an enforcement notice, which threatens legal action from trading standards if companies are not "clear and upfront" about extra delivery charges by the end of next month.
"Companies must honour the delivery claims they're making or stop making them," Mr Parker said. "It's simply not fair to mislead people about whether parcels can be delivered to them, or how much it will cost."
Mr Lochhead, SNP, hailed the enforcement action as "a huge win" and a "significant first step" in the push against unfair delivery charges, which is backed by the Press and Journal.
He said: "I'm sure that people living across Scotland will be pleased to see companies taken to task – and told to stop advertising free delivery when in many cases, for many customers, the reality is very different.
"It's now incumbent upon those companies who are failing to be upfront with consumers to sit up, take notice and change their practices. I hope they respond swiftly to this very clear shot across their bows."
But the Moray MSP added it was "beyond belief" parts of mainland Scotland were not classified as mainland UK and called for a ban on unfair delivery charges to target "unjustifiable and irrational" surcharges.
"Free delivery should mean free delivery," he said. "That should apply to folk in Moray as much as it does to customers in Surrey. Anything else is completely unfair.
"We need the UK Government to urgently review the regulations and use the law to stop this unjustified discrimination.
"We need a set of national standards that courier companies and retailers must abide by that is enforceable by law."
Moray MP Douglas Ross, Conservative, who led a Westminster debate to highlight unfair delivery charges, said the decision was "another positive step".
"We all know Moray is on the UK mainland," he said. "It should be equally obvious to the companies who are ripping off local people.
"The new rules will ensure delivery charges are clear and transparent for consumers and I welcome that companies will now face penalties for misleading consumers when they advertise their delivery charges.
"Although this is another positive step in my campaign for fairer delivery charges, more still needs to be done to end the scandal of this postcode lottery on delivery charges."
Scottish Liberal Democrat rural affairs spokesman Mike Rumbles MSP said too often firms were "unaware or ignore the code of practice".
"It is excellent news that the Advertising Standards Agency are clamping down on surcharges which unfairly penalise rural Scotland, and, in many cases, people in not-so-rural Scotland too."