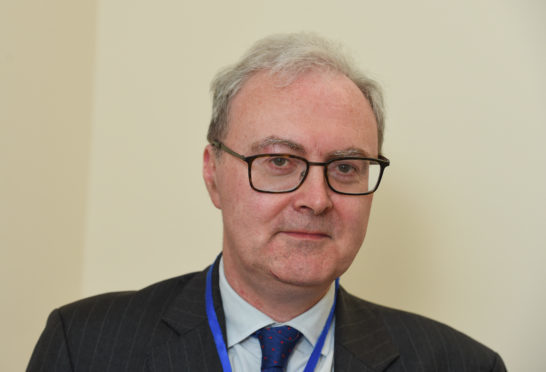 Scotland's chief public prosecutor has welcomed the return of High Court criminal cases to the Highlands after a six-year absence.
Lord Advocate James Wolffe, who was in Inverness yesterday as part of a tour of Procurator Fiscal offices in the north, said he was "excited" at the prospect of the High Court circuit sitting again in the Highland capital.
He added: "The new justice centre has the capacity to accommodate the High Court. It makes sense – bringing justice in the Highlands closer to home – and provides real benefits to the public. I find it exciting.
"It [the justice centre] is the first of its kind in Scotland, a state-of-the art building able to deliver justice to this part of Scotland.
"It is an exciting opportunity to bring all of the different services and agencies together to the one site."
The Scottish Courts and Tribunal Service confirmed that the High Court would return once the new £23million justice centre opens at the city's Longman Road in late autumn next year.
The last sitting was in 2013 following a shake-up of the court system in Scotland.
Highland MSP John Finnie was delighted the most serious crimes would once again be dealt with in the communities where they were committed.
He said: "The High Court deals with significant criminal cases and those affecting the Highlands should be seen to be dealt with in the Highlands.
"This is not just from the point of view that it will be more convenient for everyone – witnesses and accused – but it also sends a very clear signal that justice takes place in the community the crime is committed, rather than some considerable distance away in the central belt.
"When Inverness was removed from the High Court circuit I raised concerns that a judge and a few advocates heading north could be replaced by bus loads of witnesses heading south for Highlands and Islands cases.
"That turned out to be the case with Highlands and Islands cases being heard in Glasgow or Edinburgh.
"Now, with this wonderful new court development this is an ideal opportunity to bring the High Court back to Inverness, to allow people to have justice in respect of the most serious cases, once again, dispensed in Inverness."
A spokesman for the Scottish Courts and Tribunal Service said: "The High Court will sit in the new justice centre. It will deliver a wide range of services and problem-solving approaches to help reduce reoffending and offer specialist facilities, support and advice for victims and witnesses of domestic abuse, sexual violence and child abuse."