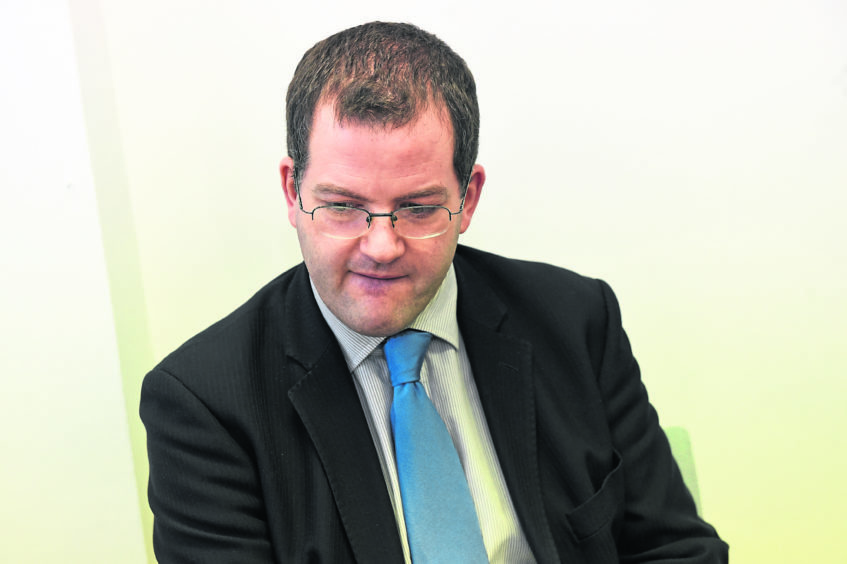 Aberdeen Donside MSP Mark McDonald should consider handing back the £52,500 golden handshake he will get when he quits Holyrood next year, his opponents have said.
The Scottish Conservatives said the public would question why he should receive the cash when he had faced accusations of sexual harassment that led to him resigning as children's minister.
However, Mr McDonald said he would not be "dignifying" the Tories' remarks about his resettlement grant with a response.
Mr McDonald stepped down from Nicola Sturgeon's government in November 2017 after complaints were made about his behaviour. He also quit the SNP.
For the last year, he has sat at Holyrood as an independent while taking home his £63,579 salary. This week he announced he would be leaving the Scottish Parliament when it breaks up for the 2021 Scottish election in May.
Under Holyrood rules, Mr McDonald is entitled to a £52,500 resettlement grant as an outgoing MSP.
Mr McDonald should consider whether or not it's appropriate for him to accept this golden handshake."

Tory Alexander Stewart
Tory deputy chief whip Alexander Stewart said: "Given Mark McDonald was forced out of government, and indeed the SNP, over his behaviour, people will wonder why he's entitled to such a handsome pay-off.
"Taxpayers don't appreciate their cash being used in this way. As such, Mr McDonald should consider whether or not it's appropriate for him to accept this golden handshake."
A SNP inquiry into Mr McDonald's behaviour found he deliberately harassed two women in an "inappropriate" and "persistent" way.
The internal investigation concluded he sent "inappropriate and unwanted" text and social media messages, caused distress with his "unwanted attention" and exploited his position of power.
Private investigators could not prove an allegation by a third woman of "inappropriate physical contact".
Although the SNP refused to disclose more details of its investigation, it emerged he sent a text message to a woman that referred to a sex act.
A young woman has also complained that she woke up in his hotel room bed without remembering how she got there.
When the inquiry finished, the SNP said 18 witnesses were interviewed.  The allegations also included "persistent behaviour over an extended period of time."
The investigators concluded his behaviour was deliberate and he should have been aware it was "not appropriate for an individual in his position."
They said there was no intention to doubt testimony of the third woman who alleged inappropriate physical contact, but it was impossible to reach a definitive conclusion.
Mr McDonald announced he was leaving Holyrood in a message on his Facebook page in which he apologised once again for his behaviour. He said he would have to "live forever" with the upset that his actions caused.