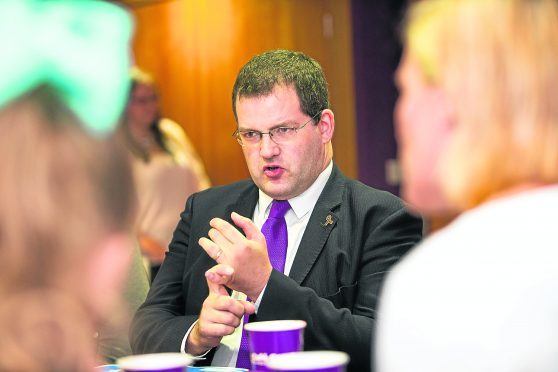 Mark McDonald has revealed he is seeking professional help to change his behaviour after a sexual harassment complaint led to him quitting the Scottish Government.
Writing exclusively for the Press and Journal today, the former childcare minister admitted causing "considerable distress and upset" to a woman who later complained.
Mark McDonald: 'For my apology to mean anything, I must change my behaviour'
He said he was "determined" to change the way he behaved – but that he would not stand down as Aberdeen Donside MSP.
The former city councillor stunned Holyrood nine days ago when he quit the government citing "inappropriate" behaviour.
The Press and Journal revealed last week that he had sent a text message to a woman which included a reference to a sex act.
The woman who complained said she decided to take action because "people have to change".
Mr McDonald went to ground after his resignation, closing his constituency office, pulling out of public appearances and suspending his Facebook account.
But as he prepares to return to Holyrood this week, Mr McDonald has broken his silence today in an apparent attempt to draw a line under the controversy.
The 37-year-old, a married father-of-two, revealed that he spent the last week "thinking and reflecting" about his actions.
He said there was a "limit" to what he could say about the complaint to protect the woman involved, but that "regardless of context or intent", there was "no excuse" for his behaviour and he took full responsibility.
Signalling that the SNP suggested he attend a behaviour course, Mr McDonald said: "I have accepted that offer of support. As has been said by many others, it is change in behaviour across the board which is the required outcome from this issue."
And amid questions over why his conduct wad bad enough to resign as a minister but not as an MSP, Mr McDonald said: "I will continue to serve the people of Aberdeen Donside as their constituency MSP. It will be for my constituents to decide at the next election whether or not not they wish for me to continue in that role."
He added: "Ultimately I will be judged by others on whether I can change my behaviour to meet the very high standards that people rightly demand of their politicians. I can only ask that I be given that chance."
Mr McDonald last week became the highest profile political figure north of the border to lose his job over the harassment scandal that has engulfed Holyrood and Westminster.
First Minister Nicola Sturgeon said he had been correct to resign from the ministerial role he took on after last year's election, but the SNP leader backed him to remain as a constituency MSP.
Mr McDonald was elected on Holyrood's north-east regional list in 2011, before succeeding Brian Adam as Aberdeen Donside MSP in 2013.