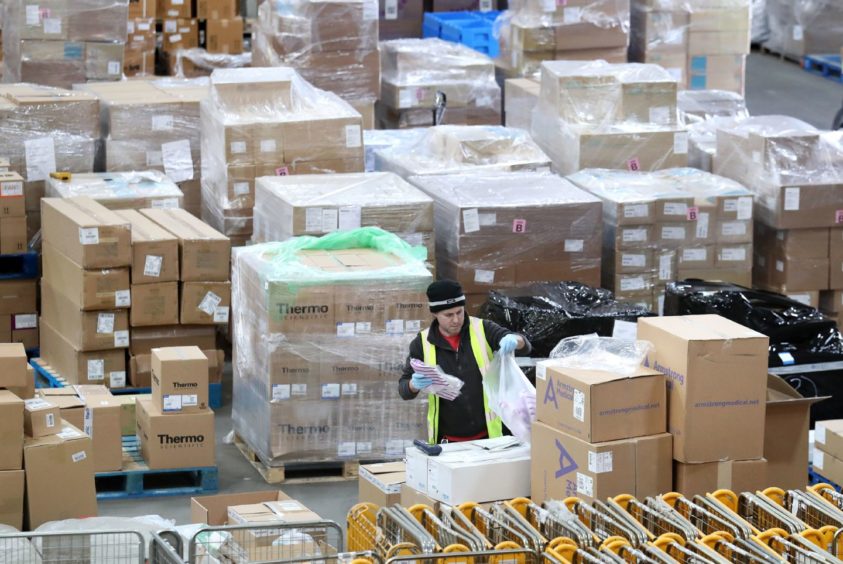 Scottish care workers have been hit by UK companies making coronavirus protective gear failing to send kit north of the border, it has been claimed.
Donald Macaskill, CEO of Scottish Care, said there had been a "massive dry-up" of personal protection equipment (PPE) coming to Scotland because companies were prioritising England.
Dr Macaskill said the problem had "a really serious impact" on Scottish care homes and had been reported to him as the CEO of the body representing the independence social care sector.
He highlighted the issue amid continuing fears about the spread of the virus in care homes and PPE shortages for health and care workers.
Within two or three days we have had a massive dry-up of procurement into Scotland and that's had an impact – a really serious impact on our care homes and home care."

Donald Macaskill of Scottish Care
Speaking on Radio Scotland, Dr Macaskill acknowledged that work being carried out by the Scottish Government was helping bridge the PPE gap but said he still had concerns that it was not being distributed quickly enough.
Dr Macaskill said: "We are facing an additional problem and that is that the care home sector and the home care sector have traditionally ordered PPE from various sources. The four largest companies in the UK last week said they were not sending to Scotland and their priority was going to be England NHS and the English social care providers.
"So within two or three days we have had a massive dry-up of procurement into Scotland and that's had an impact – a really serious impact on our care homes and home care."
Some of the major suppliers have indicated that PPE will be prioritised first for NHS, then care providers in Eng and Wales then Scotland. We tweeted this last week. Scottish suppliers of PPE v stretched. V grateful to @NHSNSS filling void. @scotgov @scottishcare

— Donald Macaskill (@DrDMacaskill) April 13, 2020
He went on to say that Scottish makers of the  kit were "absolutely maxed out" and there were some areas of the country that did not have access to PPE sources.
"I had one care provider over the weekend saying that they had been told that if they ordered now they might get something by July, which is completely useless," Dr Macaskill said.
Dr Macaskill did say that the triage system set up by the Scottish Government had improved matters.
Under the system, care homes can get in touch with a call centre to request PPE.
"The women and men who are working in that call centre are doing an amazing job and things have improved over the weekend," he said. "I am confident and I have been told that the stuff is there. It just needs to be put out."
Dr Macaskill raised his concerns as it emerged that five elderly residents at Almond Court care home in Glasgow had died from suspected coronavirus.
The deaths mean Almond Court became the fourth Scottish care home to report deaths from the outbreak.  But care home operators have estimated hundreds more are likely to have died from the outbreak in care homes.
Here's the specific audio clip. UK PPE providers are prioritising delivery of PPE to NHS services in England.#BetterTogether pic.twitter.com/n9hljyLxuX

— Graeme Turner 🏴󠁧󠁢󠁳󠁣󠁴󠁿 (@gturner1969) April 13, 2020
Official statistics on care home deaths are due to be published for the first time on Wednesday. Nine elderly residents reportedly died at Tranent Care Home in East Lothian; eight others died after showing symptoms at Castle View care home in Dumbarton, West Dunbartonshire; and 13 residents died at Burlington Court care home in Glasgow.
Health and care workers sign PPE petition
Meanwhile, hundreds of doctors, nurses and care workers have signed a petition calling on the Scottish Government to provide the correct PPE.
The petition was launched days after the publication of an open letter signed by more than 100 medical professionals raising frontline concerns about PPE provision.
Labour health spokeswoman Monica Lennon said: "Frontline health care workers are under unprecedented pressure and their basic right to protective equipment should be guaranteed."
At her daily coronavirus briefing in Edinburgh, Nicola Sturgeon was asked about PPE concerns.
Ms Sturgeon was asked how many health and social care workers were in Scotland and how many of them had access for full PPE that would last them for the week.
The first minister was unable to give the figures off the top of her head. Later the Scottish Government came back saying there were 165,909 NHS staff and headcount staff employed by the NHS in Scotland and 204,610 people in social services. There was no detail of how many had PPE.
The first minister said: "We want to make sure that everyone who needs PPE has it when they need it. That is an ongoing challenge and responsibility."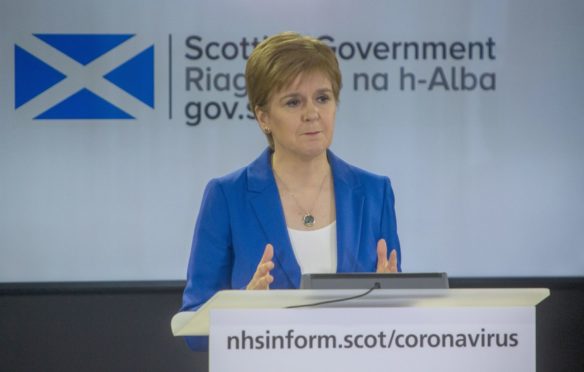 She said the health secretary, the interim chief medical officer Dr Gregor Smith and herself were focused on getting PPE to frontline staff and the situation was being monitored on a daily basis.
"There are few things that the health secretary and I take more seriously than making sure those working so hard for us have the protection they need," Ms Sturgeon said.
Health Secretary Jeane Freeman added that existing suppliers were being asked to increase productivity.
New suppliers would be brought into the market, provided their PPE products were of good enough quality, Ms Freeman added.