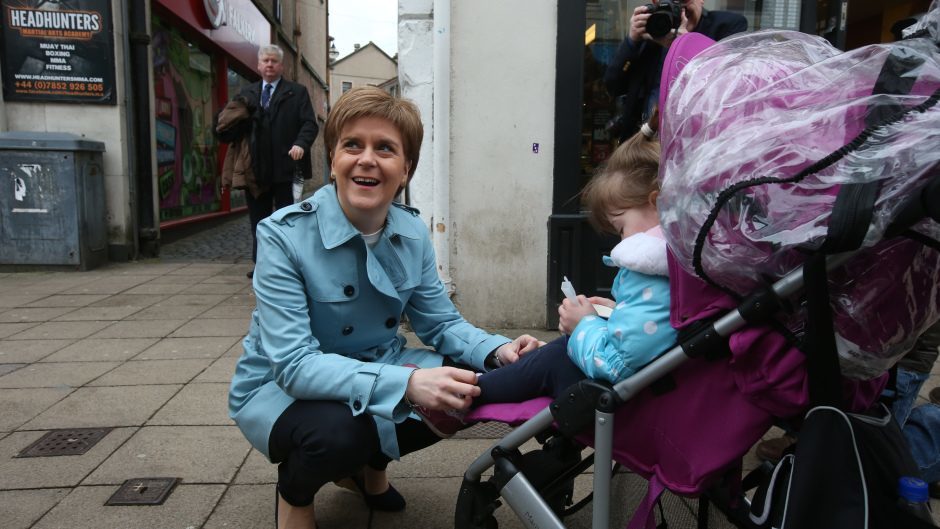 Nicola Sturgeon has used a visit to Shetland to launch the SNP's islands manifesto.
The SNP leader said the election on May 5 was the "most important since devolution" given the new tax and spend powers coming to the Scottish Parliament.
Universal broadband and improving island economies are among the pledges from her party.
Wir Shetland, a group campaigning for self-governance for the islands, boycotted Ms Sturgeon's visit in protest against "unfair treatment" from the SNP.
But the first minister said: "We're determined that the new powers coming to the Scottish Parliament are put to work for the northern isles.
"Not only will our island communities benefit from 100% of the Crown Estate revenues that they raise, but they will have a greater say in how the assets of the Crown Estate are managed.
"And we'll ensure that the winter fuel payments, also being devolved to Holyrood, will be paid early to people who are 'off-grid' – making a huge difference to older people in remote areas.
"With the new powers coming to the parliament, this is the most important election since devolution, and by giving both votes to the SNP, people across all of Scotland's islands can elect a government which will use every power at its disposal for our island communities."
Other SNP pledges for island communities include investing £5million to promote island produce, supporting the energy industry on the islands, and making them more accessible.
But the Scottish Liberal Democrats' Tavish Scott, who is contesting the Shetland seat, accused Ms Sturgeon of neglecting Shetland.
He said: "After nine years of an SNP government Nicola Sturgeon now says she wants to ask islanders what they want. It's easy Nicola.
"Cut our ferry fares by 50% as you've done on Scotland's west coast.
"Pay crofters when you promise, not months and months late. Start being flexible on fishing regulations rather than tying our boats to the pier in government red tape.
"And reverse your cuts to our schools that hit the education of Shetland's next generation."
Ms Sturgeon will visit Orkney today.