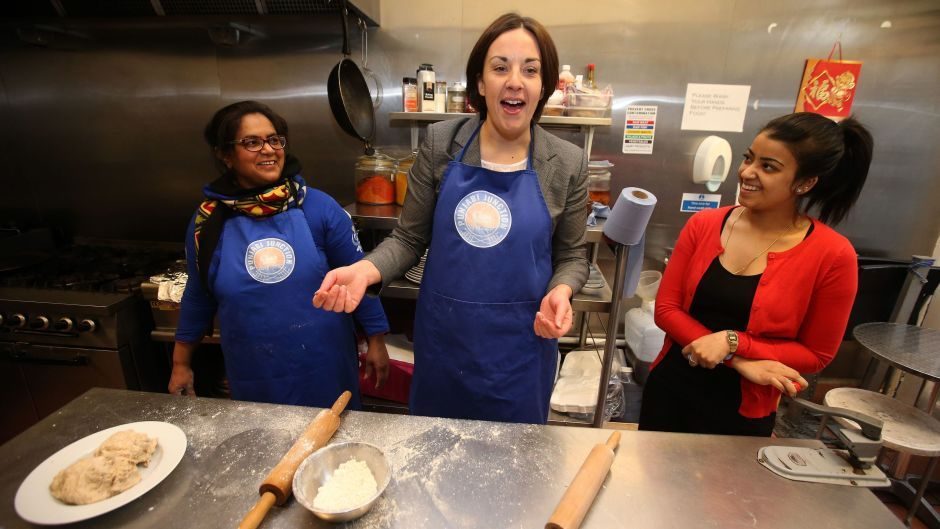 The leader of Scottish Labour has insisted middle and low income earners will be better off under her tax plans.
During another frenetic day of campaigning Kezia Dugdale claimed her party offered a "better deal" for households than the SNP.
Analysis by the party suggests a couple living in Aberdeen earning a combined £40,000 a year would be £278 a year better-off through the scrapping of council tax and changes to income tax.
Ms Dugdale's comments came amid reports of infighting within Scottish Labour over her handling of the campaign, with one candidate claiming her stewardship of the party in the election so far had been "disastrous".
The Scottish Labour leader has been forced to qualify remarks she made about a possible second independence referendum, insisting her party will rule one out for the lifetime of the next parliament.
Speaking at a campaign event in Edinburgh, Ms Dugdale said: "Labour's plans on tax will stop the cuts and mean a better deal for nearly two million households.
"The SNP are just offering more council cuts and are retaining the unfair council tax.
"Faced with the choice between using the powers of the parliament to scrap the unfair council tax and invest in the future or carrying on with the SNP's cuts, Labour would use the powers."
Meanwhile, the Scottish Conservatives' leader Ruth Davidson headed to Glasgow yesterday to promote her party's plan to get more young people into work.
Speaking at an HGV training centre she said: "Every child leaving school in Scotland should know that they have opportunities and options which will lead straight to a job.
"Boosting skills in Scotland will ensure that our firms get the talent they need to grow, and will give young people the promise of a secure job for the future."
Scottish Liberal Democrat leader Willie Rennie took to the skies on a zip line as part of an event to promote his party's energy policy.
He said: "Scotland had the best climate change targets in the world. But we haven't met them for four years in a row. We need bolder action to be the best again."
Polling for the election, which will take place on May 5, has the SNP as favourites to secure a third term in government, while the Scottish Conservatives and Labour are vying for second spot.